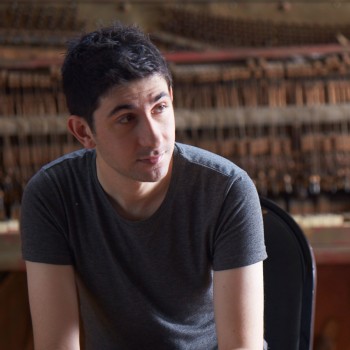 Alex Raineri
Alex Raineri is an active recitalist, concerto soloist and chamber musician. Alex is the Artistic Director of the Brisbane Music Festival and is a passionate exponent of contemporary music, having given over 130 World Premieres to date.
International performances include tours throughout California, South-East Asia, United Kingdom, Ireland, New Zealand, Germany and Austria. He has been broadcast on BBC Radio 3, Radio NZ, California Capital Public Radio, ABC Classic FM and all of the Australian MBS Networks. As a concerto soloist he has featured with the Queensland, Tasmanian, Darwin and West Australian Symphony Orchestras, Southern Cross Soloists, Orchestra Victoria, Four Winds Festival Orchestra, Bangalow Festival Orchestra and the Queensland Pops Orchestra. Alex has been the recipient of a number of major awards including the Kerikeri International Piano Competition and Australian National Piano Award. He was the recipient of the Queensland luminary award in the 2021 APRA/AMCOS Art Music Awards and received a 'Kranichsteiner Musikpries' at the Darmstadt Summer Courses for New Music, Germany. Notable collaborations include; Andreas Ottensamer, Twoset Violin, eighth blackbird, ELISION, Sara Macliver, Natalie Clein, Natsuko Yoshimoto, Karin Schaupp, Greta Bradman, Li Wei Qin, Teddy Tahu Rhodes, Jack Liebeck, Kathryn Stott, Slava Grigoryan, Brett Dean and many others.
Alex Raineri is featured on the following titles

Works for violin, viola and cello, and piano by composer Frank Millward are an exploration of the way we choose to listen, process and subsequently remember.
Performer: piano

Luke Carbon (clarinet) and Alex Raineri (piano) present a varied collection of music by composers Brahms, Berg, Beach, Bernstein and Gyger.
Performer: Piano