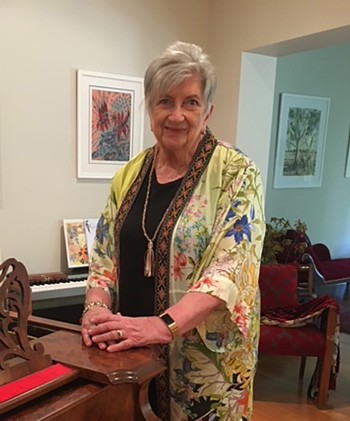 Ann Carr-Boyd
Ann Carr-Boyd has been involved in music and its many manifestations all her life. Born in 1938 into a family of professional musicians, she studied piano from an early age with her father, Norbert Wentzel and violin and viola with her Uncle, Charles Wentzel.
She obtained the first Bachelor of Music degree from the University of Sydney, with 1st class honours and followed this with a Master of Arts with 1st class honours, presenting a thesis on the first hundred years of European musical development in Australia, 1788 to 1888. Her first formal composition studies took place in London with Peter Racine Fricker and Alexander Goehr, as recipient of the Sydney Moss Scholarship from Sydney University. Her early works received performances in London.
Returning to Sydney in 1967 she continued her involvement with music, which has embraced such areas as broadcasting, teaching at universities and schools, as well as privately, and contributing to publications including the Australian Dictionary of Biography and Grove's Dictionary of Music and Musicians.
Her compositions cover many genres and are widely performed in Australia and overseas. Recently, performances include Fandango performed by the Southern Highlands Symphony Orchestra and the Piano Concerto No. 2 with John Martin as soloist; new works - Australian Dawn and Bush Dance with the Steel City Strings and talented violinists, Cedar-Rose Newman and Lina Lee (both 13 years old at the time); duets for piano performed in numerous locations.
In June 2017 she was awarded an AM in the Queen's Birthday Honours for significant service to the performing arts and classical music as a composer, pianist, teacher and musicologist.
Compositions by Ann Carr-Boyd appear on
Australian pianist John Martin presents an entertaining range of music from 10 Australian composers.
Composer