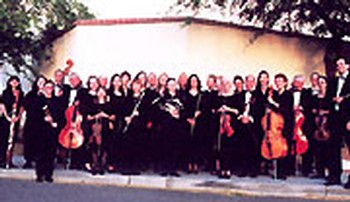 Catalina Chamber Orchestra
The orchestra was founded in 1991 by Dr. Enrique Lasansky, and as a non-profit group fills an important niche in the cultural life of Tucson and surrounding Southern Arizona communities.
The Catalina Chamber Orchestra is the only ensemble in this area which is exclusively dedicated to performing the rich and varied repertoire for small orchestras which spans more than four centuries. Additionally, the CCO has performed numerous world premieres and continues to feature contemporary works with an emphasis on Arizona and Southwestern composers.
Catalina Chamber Orchestra appears on

An exciting new CD showcasing the brilliant music of the Adelaide-based composer, Becky Llewellyn, featuring the Adelaide Symphony Orchestra, the Lights Contemporary Ensemble, a multimedia video and much more!
Performer