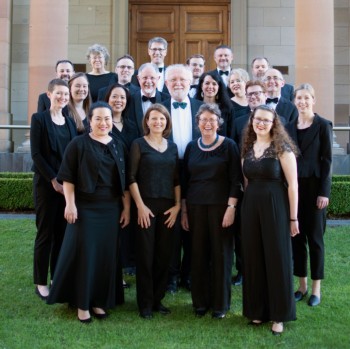 Ensemble Gombert
Ensemble Gombert is Melbourne's outstanding chamber choir, noted for its pure intonation and historic approach to choral sound and style. Named after Nicolas Gombert (c. 1495–1560), who has been largely ignored in the twentieth century despite an exemplary reputation amongst his contemporaries, the Ensemble specialises in a cappella performance of Franco-Flemish music of the High Renaissance.
The Ensemble's subscription concerts are broadcast regularly on ABC Classic FM, and it has recorded several albums. It appears frequently at festivals across Australia, and has toured to North America (2009) and three times to Europe (2004, 2006 & 2015).
Founded by John O'Donnell in 1990, the Ensemble quickly established a reputation for its purity of tone, and gave a 'stunning rendition' of two works by Czech composer Petr Eben in 1991, in the presence of the composer. In 1992 it was invited to open the 'Rubens and the Italian Renaissance' exhibition at the National Gallery of Victoria, and later that year won first prize at the inaugural Australian National Open Choral Championships in Wagga Wagga, NSW. The Ensemble launched its first subscription series in 1995, and has presented a series each year since that time.
In 2004, it returned to the National Gallery to sing Monteverdi's Vespers, presented by the Italian Institute of Culture in conjunction with the 'Darkness and Light: Caravaggio and his World' exhibition. Other performances of note include the first Australian performances of Edmund Rubbra's Mass in Honour of St Teresa of Avila and Arvo Pärt's Canon of Repentance, and premieres of works by Australian composers Calvin Bowman, Andrew Robbie, Vaughan McAlley and Peter Campbell.
Complementing the annual concert series have been numerous return appearances at the Organs of the Ballarat Goldfields Festival and the Woodend Winter Arts Festival, culminating in an invitation to perform for the 2015 European Capital of Culture festival in Plzen, Czech Republic. Beginning in 2016, the Ensemble has performed twice per year in the Melbourne Recital Centre 'Local Heroes' series.
Ensemble Gombert is featured on the following titles
Angeli Vocal ensemble, pianist Michael Kieran Harvey, chamber choir Ensemble Gombert, and the Four Seasons String Quartet perform the music of Melbourne composer Vaughan McAlley. It is a fascinating exploration of music written for 4 parts, and up to 40 parts in Vaughan's unique approach to counterpoint.
Performer: Choir