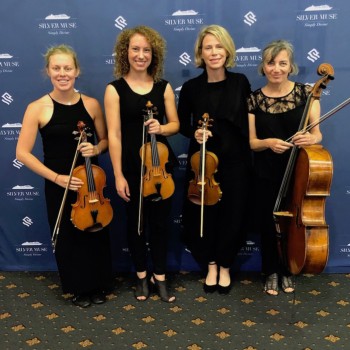 Four Seasons String Quartet
The members of Four Seasons String Quartet are internationally experienced performers. They have now been playing together since 2004 and are dedicated to bringing the wealth and beauty of string music to as wide an audience as possible. All the players have completed degrees in music and currently reside in Melbourne and perform with various orchestras including the Melbourne Symphony Orchestra and Orchestra Victoria.
The players have many years of experience performing in various styles. Four Seasons String Quartet has an extensive range of repertoire, and is flexible enough to also perform as a trio or duo. Our ever increasing repertoire covers all styles including baroque, classical and romantic periods as well as jazz and popular music from current bands.
Four Seasons String Quartet is featured on the following titles
Angeli Vocal ensemble, pianist Michael Kieran Harvey, chamber choir Ensemble Gombert, and the Four Seasons String Quartet perform the music of Melbourne composer Vaughan McAlley. It is a fascinating exploration of music written for 4 parts, and up to 40 parts in Vaughan's unique approach to counterpoint.
Performer: Strings