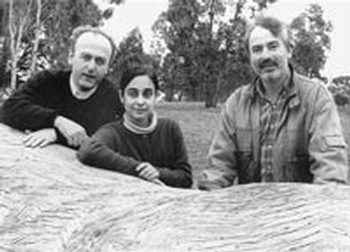 Golden Fleece
Golden Fleece is an Australian vocal ensemble which performs, collects, teaches and researches traditional Georgian music. The group takes its name from the well known mythical object the golden fleece.
The trio Golden Fleece consists of Joseph Jordania, PhD (low voices and percussion) and Nino Tsitsishvili, MA (high voices and'chonguri'). Both are ethnomusicologists who arrived in Australia in 1995 from Georgia. The third member of the ensemble is German-born Christoph Maubach M. Ed. (middle voices and percussion). Christoph is a music educator, who has specialised in Orff music and movement education. He is a lecturer in music education at the Australian Catholic University in Melbourne.
Golden Fleece was formed in January 1996 in Melbourne. Since then the trio has performed concerts and given workshops at many Australian music events including the Woodford Festival, the National Folk Festival and the Sydney A Capella Festival. Golden Fleece has performed abroad in Chicago and Los Angeles and some of their performances have been broadcast by the Australian Broadcasting Corporation.
Golden Fleece is featured on the following titles

Unique because of its sound qualities, melodies, harmonies, polyphony and modes, Georgian music was declared by composer Igor Stravinsky to be a stimulus for the development of modern Western music. The Australian vocal ensemble Golden Fleece performs, collects, teaches and researches Georgian music and here paints a vivid portrait of a rich cultural heritage.
Performer