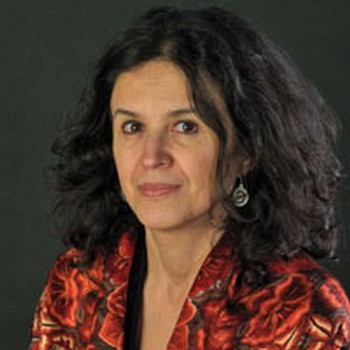 Hilda Paredes
Firmly established as one of the leading Mexican composers of her generation, Hilda Paredes has made her home in London since 1979 and her music is now performed widely around the world.
As an active participant in master classes at Dartington Summer School, studied with Peter Maxwell Davies and Richard Rodney Bennett. After graduating at the Guildhall School of Music, she obtained her Master of Arts at City University in London and completed her PhD at Manchester University.
Her collaboration with choreographers led her to receive the Music for Dance Award from the Arts Council of Great Britain in 1988. After taking part at the Garden Venture Opera Project in Dartington, she completed her first chamber opera The seventh seed.
She has continued to be involved in the musical life of her native country, teaching at the University in Mexico City as well as radio producer of new music. She has been recipient of important awards, such as the Arts Council of Great Britain fellowship for composers; the Rockefeller, Fund for Culture Mexico/USA and more recently the JS Guggenheim Fellowship in the USA. She has taught composition and lectured at Manchester University, the University of San Diego California, as well as in Mexico, Spain, at Centre Acanthes in France and was appointed the 2007 Darius Milhuad Visiting Professor at Mills College in the US.
In her catalogue there are also electroacoustic works, chamber operas, string quartets, and a piano trio. She has been commissioned by soloists, ensembles and orchestras around the world.
"Paredes is a composer with a fresh aural imagination, while her Carter-like use of instrumentalists as dramatic protagonists gives her music an extra dimension." The Guardian (2005)
Compositions by Hilda Paredes appear on

Michael Kieran Harvey plays new music for keyboard. Featuring the works of Graham Hair, Douglas Knehans, Martin Friedel, Richard Meale and Hilda Paredes.
Composer