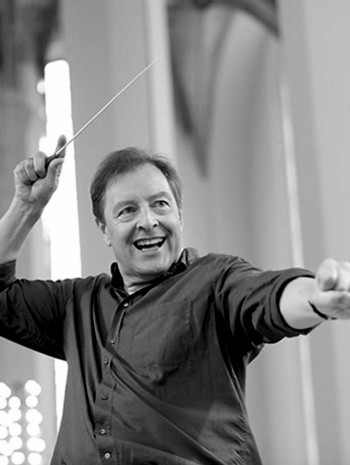 Howard Griffiths
Howard Griffiths was born in England. He first studied at the Royal College of Music in London and later with Eric Schmid and Léon Barzin in Paris.
Since 1982 he has lived in Switzerland where he enjoys a long-standing partnership with the Zurich Chamber Orchestra, since 1996 as Artisti Director and Principal Conductor. The orchestra gives some fifty concerts annually in its home city and tours widely abroad. Howard Griffiths also has a flourishing internaional career, conducting well-known orchestras throughout Europe, as well as in South Africa and the United States of America. In England he made his début with the Royal Philharmonic Orchestra at the Royal Festival Hall in London in 1991, a year after his first London performance withthe English Chamber Orchestra, with which he has had a continuing relationship. He is also a frequent visitor to the Northern Sinfonia in Newcastle, appearing with the orchestra in concert tours, and in the recording studio. Howard Griffiths has made over forty compact disc recordings, often promoting the work of lesser know composers, as well as performing standard repertoire.
Howard Griffiths is featured on the following titles

17 years after the release to wide critical acclaim of David Joseph's album Selected Works Volume 2. Now, Works for String Orchestra presents previously un-released recordings gloriously remastered for this new album.
Performer: conductor