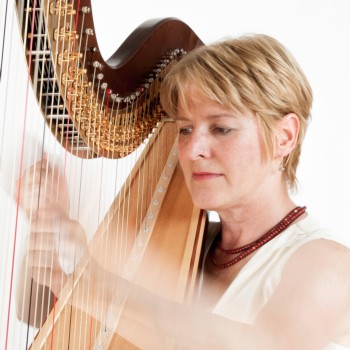 Jacinta Dennett
From the outset of her creative education, Jacinta Dennett has intrinsically entwined movement and music. The responsive nature of the harp and its unique capacity to continue resounding after it has been played have led Jacinta to research the essence of gesture in harp playing and develop her idiosyncratic performance style.
Inspired by Carlos Salzedo's fundamental harpistic gesture and Rudolf Steiner's eurythmy, Jacinta has continued to develop her performance style bringing a deeper authenticity and sense of belonging to her work—as is evident in this intimate study of solo harp compositions written by Australian women composers. Succeeding in exposing the harp as an instrument of ethereal mysteries, this collection of compositions embodies a life of its own. Jacinta describes this interactive experience of playing the harp as the sensation of swimming with sound. Her work is recognised for its rare fusion of poetry—through her heartfelt and intuitive embodiment of music—and physicality—enriched by her dance and martial arts study. One commentator described Jacinta's unique gift for creating something tangible from music as "making architecture through sound". Media reviews have declared Jacinta's performance as "beyond reproach".
The distinctive and versatile nature of Jacinta's performance style has allowed her to perform as a concerto soloist, a recitalist, an orchestral and chamber musician, a folk musician, and a showcase performer. Career highlights include: performing in the multi-award-winning Malthouse Theatre production The Bloody Chamber, which featured an original score by David Chisholm for three harps (2013); being recognised on the global stage during the World Harp Congress in Sydney performing in the opening act with didgeridoo player William Barton (2014); joining the Argonaut Ensemble, performing Boulez Sur Incises (2015); and curating and performing in an Australian Voices concert featuring Helen Gifford's chamber music in conjunction with the Melbourne Recital Centre and the Australian National Academy of Music (2016). This celebrated performance was selected for broadcast on ABC Classic FM and as a New Waves podcast. Jacinta has also authored a book chapter describing the evolution of Helen Gifford's Fable for solo harp (1967) in A Century of Composition by Women: Music Against the Odds (2022).
BA, BMus, BMusPerf(Orch), GDipMus(Perf), GDipEd(Primary), MFA(Interdisciplinary Arts Practice), PhD  
Jacinta Dennett is featured on the following titles

The breadth of this remarkable collection of solo harp music encompasses sixty-six years of original Australian composition, performed by Jacinta Dennett, featuring Australian women composers and showcasing the harp's unique sonic and expressive qualities as a solo instrument.
Performer: Harp
Jacinta Dennett is a member of

Libra Contemporary Ensemble was formed in 1991 to provide performance possibilities for a wide range of rarely heard contemporary music.