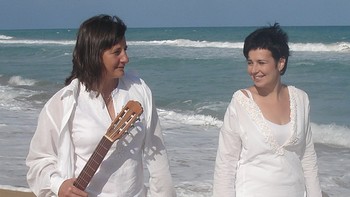 Nougat
Nougat seeks to highlight the beauty and versatility of mandolin and guitar. Their music sits on the cusp of world and classical music, and they are comfortable in both classical and world music environments. They are Melbourne based and have an established reputation in Melbourne and Victoria.
The combination of mandolin and guitar are very well suited. Because they are both plucked instruments, they have similar "attack" and sound very together. The guitar provides rich chordal accompaniments and melodies. The mandolin, as an upper register instrument, can provide "sparkle" to faster pieces, and its tremolo allows for musical variation within notes. Although high in register, the mandolin is not a shrill instrument.
Artist's website: www.nougat.com.au
Press quote
"Costantino and Roshan are breathtakingly adept at wielding their instruments, melding diverse genres – classical, tango, Celtic, pop, Italian and Spanish standards, South American folk – into one elegant, moving sound as impressive for its instrumental proficiency as its beauty."
— Bliss, Pasadena Weekly
Nougat is featured on the following titles

Nougat combines the talents of guitarist and composer Tania Ravbar Costantino and master mandolinist Ruth Roshan. Breathe sits on the cusp of world and classical music.
Members of Nougat

Tania Ravbar Costantino is a guitarist and composer of exceptional ability. She has post graduate credentials from the Victorian College of the Arts and won the Australian Guitar Competition back in 1990.

Ruth Roshan is a master mandolinist and has played mandolin professionally since a teenager. Whatever the style or tempo, Ruth will play with a great deal of musicality and with unique style, showing an often underrated instrument's full potential.