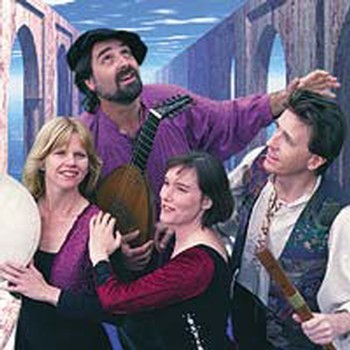 Pastance
Pastance came together in 1993 to perform Mediaeval and Renaissance music. Pastance has performed for the early music fraternity but also for a wide range of audiences, from folk festivals and formal concerts to schools, corporate feasts and open air markets.
Their repertoire and performance style has therefore been shaped not only by their diverse musical interests but also by their desire to appeal to this broader audience.
The Sydney based ensemble brings together an amazing diversity of musical ingredients. Harp, lute, recorders, fiddle, gittern, bagpipes, percussion and vocals are used in arrangements of Anglo/celtic folk, early European and original music to create a remarkable sound.
As well as their unique arrangements of folk songs they explore a vast range of other music ranging from the medieval period, through the Renaissance and Baroque to compositions by Alex Cronin.
Pastance has played at some of Australia's largest folk festivals, including The National (1994-2000), Port Fairy (1996), Woodford (1996), Jamberoo (2003) and Cobargo (2004). Over the past 12 years Pastance has performed for over 200,000 school children in over 1000 schools all over Australia and New Zealand.
Pastance consists of:
Alexander Cronin: harp, lute fiddle, gittern, bagpipes, voice
Megan Cronin: voice, recorder, shawm, percussion
Myfanwy Dibben: voice, recorder, percussion
Matthew Ridley: recorders, Renaissance flute, voice
Chris Wheeler: voice, baroque guitar, acoustic guitar
James Gastineau-Hills: fiddle
Artist's website: www.pastance.com
Pastance appears on
Members of Pastance

Multi-instrumentalist Alex Cronin trained as a lutenist in Australia and Holland. As a lutenist and guitarist he has performed with the Australian Chamber Orchestra, the Brandenburg orchestra, Opera Australia and the Sydney Symphony Orchestra, among others.