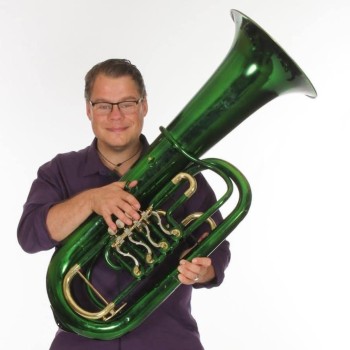 Per Forsberg
Per Forsberg grew up in Torsby, Sweden, and studied Tuba with Christer Palm, Carl Jakobsson and Michael Lind before coming to Melbourne in 1999 as an exchange student to study with Fabian Russell. 
Per has performed with many fine artists in a variety of styles. He can be heard on recordings and DVDs with Melbourne Symphony Orchestra, rock legends KISS, Award winning Tatar Singer Zulya and singer songwriter Lior. He was a featured artist with Grammy and Golden Globe winning composer Hans Zimmer as well as New York artist Taylor Mac's show 'A 24-Decade History of Popular Music'.

Per is the principal tuba in the Australian Philharmonic Orchestra, Royal Melbourne Philharmonic Orchestra and West Australian Philharmonic Orchestra and has performed as guest principal tuba with Melbourne Symphony, Orchestra Victoria, Iceland Symphony, and with Swedish Stockholm Folk Opera in a production of Wagner's Rheingold.

Per has performed numerous Wagner operas with Melbourne Opera under the baton of Wagner specialist, British conductor Anthony Negus. He has performed on TV shows Spicks and Specks and Rove live with Irish boyband Boyzone. As a soloist Per has performed and toured in Europe and around Australia together with pianists Caroline Almonte, and Benjamin Kopp. Per was in the semi final for the Yamaha Barry Tuckwell Brass Prize Tuba and Euphonium Competition 2007 for the Melbourne International Festival of Brass. Per has performed the Tuba concerti of Vaughan Williams, Barry McKimm and Edvard Gregson with various ensembles.

In 2012 Per premiered Brenton Broadstock's Tuba Concertino and has also premiered works by other Australian composers Andrew Batterham, Katy Abbott and Barry McKimm.
Per Forsberg is featured on the following titles

"Brassy revamp for Wagner" (The Age, 29 April 2020). This is a musical journey through Wagner's Ring of the Nibelungs, arranged for horn, tuba and piano by Mark Papworth.
Performer: Tuba