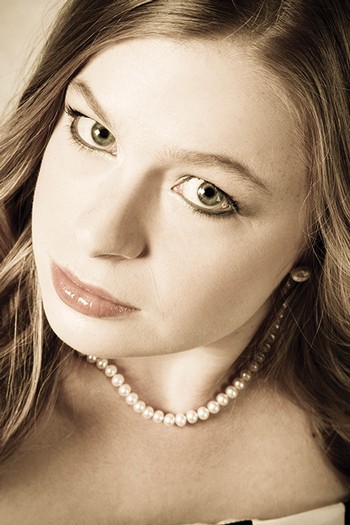 Siobhan Stagg
With a voice of "ravishing tone" and "radiant" stage presence (The Age), Australian soprano Siobhan Stagg is
a rising star on the brink of an international career.
In 2013/14, Siobhan sings Pamina in Die Zauberflöte für Kinder at the Salzburg Festival and several roles as an emerging artist at the Deutsche Oper Berlin, including Pamina in Die Zauberflöte, Gretel in Hänsel und Gretel and the Woodbird in the Ring cycle, conducted by Sir Simon Rattle.
Siobhan grew up in Mildura before moving to Melbourne to complete a Bachelor of Music (Honours) at the University of Melbourne where she studied singing with Merlyn Quaife. As an undergraduate, Siobhan sang in the Choir of Trinity College with Director of Music, Michael Leighton Jones. She was a founding director of youth opera initiative, Opera Down Under, and worked as a producer of the Live at the Convent radio program at Melbourne's 3MBS fine music station.
In 2011, Siobhan was the recipient of Opera Foundation Australia's AIMS Award, allowing her to attend the American Institute of Musical Studies (AIMS) in Graz over the European summer. While there, Siobhan was awarded the jury's First Prize and the Audience Choice Award in the Meistersinger Vocal Competition. Upon returning to Australia, Siobhan won First Prize in Melbourne's 'Singer of the Year' competition and was awarded the Acclaim Sleath Lowrey scholarship and B'nai B'rith Harold Fisher Prize from the University of Melbourne.
2012 proved to be a breakthrough year for Siobhan, earning success in several major competitions and increasingly glowing performance accolades. Siobhan spent six weeks studying in New York on the Donovan Johnston Memorial Scholarship and made her New York recital debut performing 'Melba's Legacy; a tribute on Australia Day' with pianist Miloš Repický (Assistant Conductor, Metropolitan Opera). Siobhan completed a Master of Music (Performance) at the University of Melbourne under the supervision of Rosamund Illing and Dermot Tutty and furthered her studies in Australia on the Amelia Joscelyne Memorial Scholarship from the Dame Nellie Melba Opera Trust.
Siobhan has performed as soloist with some of Australia's finest ensembles including the Melbourne Symphony Orchestra, Australian Brandenburg Orchestra, Royal Melbourne Philharmonic, La Compañia, Ludovico's Band, Latitude 37, Melbourne Art Song Collective, Consort of Melbourne, the Orchestra of the Australian National Academy of Music and at several of Australia's major music festivals.
She was awarded First Prize and the Audience Choice Award in the Mietta Song Competition and won Sydney's Italian Opera Foundation Award before moving to Cardiff as winner of the Australian International Opera Award towards the end of 2012. She was also awarded the University of Melbourne's Barbara Bishop Hewitt Scholarship and a prize from the Tait Memorial Trust. In 2013 Siobhan completes a Masters of Advanced Vocal Technique with Dennis O'Neill and Nuccia Focile at the Wales International Academy of Voice and studies in Italy as winner of the Italian Opera Foundation Award before making her mainstage operatic debut in Europe.
Artist's website: www.siobhanstagg.com.au
Siobhan Stagg is featured on the following titles

Performer
Hymne à l'amour is an exquisite collection of art songs sung by soprano Siobhan Stagg and accompanied by Amir Farid. The songs illustrate the frailty of the human condition through flirtation, deep love and heartbreaking truths.