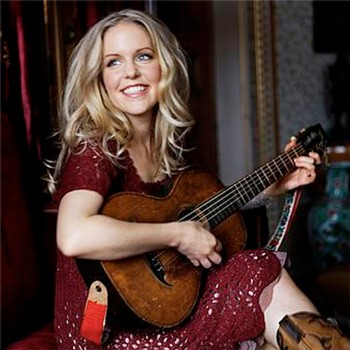 Sofia Karlsson
Sofia Karlsson (b. 1975) is one of Sweden's best-known and most successful contemporary folk singers.
Sofia Karlsson grew up in Enskede, Stockholm. She attended the folk music department of the Royal College of Music in Stockholm. From 1998 to 2002 she was a full-time member in Swedish folk music act Groupa. In 2002 she released her debut solo album Folk songs.
In 2005 she made her public breakthrough with her second album Svarta ballader (Black ballads). The album contains her interpretations of the Swedish poet Dan Andersson. The album was in the charts for more than a year and has to date sold 60,000 copies. It was rewarded with Swedish as well as Danish Grammys.
After touring the country for two years she released her third album Visor från vinden (Songs from the loft) with its collection of classical songs sung in Swedish, but written by poets and musicians such as Baudelaire, Dan Andersson, Marianne Flodin, Mikael Wiehe, Alf Hambe, Inger Hagerup, Carl Michael Bellman, Peps Persson, and Evert Taube. The album also contains Lars Forssell's free version of Boris Vian's "Le Déserteur".
Compositions by Sofia Karlsson appear on

FIKA is the latest recording from crossover ensemble Elysian Fields: beautiful music that plays and sings to the gathering of friends with food and fine conversation!
Composer