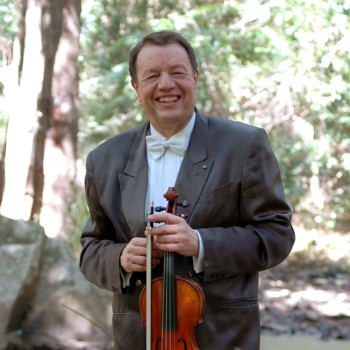 Spiros Rantos
Spiros Rantos was the founder, artistic director and conductor of the Rantos Collegium and the Melbourne Chamber Orchestra, and has taught at the Victorian College of the Arts, the University of Southern Queensland and University of Melbourne from 1996 to 2009 he was senior Lecturer at UQ School of Music.
Violinist and conductor, was born in Corfu, Greece, grew up in Athens and pursued his musical studies in Vienna, Austria, where he met his wife and musical partner, Israeli born pianist Brachi Tilles. Spiros has won the International Violin competitions of Colmar, France and Forte dei Marmi, Italy and commissioned and promoted over 400 performances around the world of music by Australian composers, as a soloist, chamber music player and conductor.
He has recorded over 55 records for many labels including Deutsche Grammophon, Harmonia Mundi, Adelcord and Grevillea Records. He has been a frequent guest performer for National broadcast companies in Europe, Asia and Australia. Spiros came to Australia in 1976 as a member of the Vienna based group Ensemble 1.
Spiros Rantos is featured on the following titles

17 years after the release to wide critical acclaim of David Joseph's album Selected Works Volume 2. Now, Works for String Orchestra presents previously un-released recordings gloriously remastered for this new album.
Performer: conductor