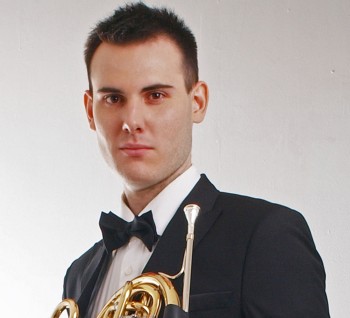 Thomas McConochie
Thomas McConchie composes music in styles ranging from modern classical, to jazz, and
world music. Elements of classicism such as balance, symmetry, restraint, clear and elegant
development of musical ideas, etc., are present in much of Thomas' music, including his
Balinese music.
After completing a doctorate in philosophy at the University of New South Wales in 2017, Thomas completed an Associate in Music Australia (AMusA) diploma, majoring in horn performance, through the Australian Music Examinations Board. In addition to studying composition with his high school music teacher, Estelle Huxley, Thomas has also received advice and guidance from professional composers such as Jim Cotter (ANU), Andrew Schultz (UNSW) and Daniel Rojas (USyd).
Thomas composes music in styles ranging from neoclassical to jazz and world music. His compositions that feature the horn (Thomas' main instrument) have been well received by teachers, students, and professionals worldwide. Horn players who specialise in natural horn especially appreciate Thomas' neoclassical compositions for period instruments, such as his sonatas for natural horn and fortepiano and horn concertos. This has resulted in some interesting commissions such as the Sonata for Natural Horn and Cello (op.22) (TWV 74) and Prelude and Theme and Variations on a Theme by Alexander Laing (for natural horn and fortepiano) (op.23) (TWV 75).
Thomas' Balinese-Western fusion music has impressed both performers and audiences alike. In 2017, the North Sydney Symphony Orchestra commissioned Thomas to compose an original work for the orchestra's gala concert that year. The resulting work, Starry Night Over Ubud (op.6) (TWV 33), combines Balinese musical style and form with Western orchestral conventions. In 2018, Thomas composed an original work for the Suara Jaya Balinese Gamelan Ensemble at the Sydney Conservatorium of Music. His composition, Gilak Mas (Golden Gilak) (op.7) (TWV 41), is an innovative piece of modern gamelan music based on older gamelan musical forms. In 2021, Thomas' piece, Symphony No.2 (Balinese Symphony) (TWV 37) was awarded a 3rd place prize in the Franz Schubert Konzervatorium's composition competition.
Thomas continues the classical tradition of the composer-performer. Thomas has made professional recordings of many of his works featuring the horn that he has uploaded to his YouTube channel. Thomas appears regularly playing horn with National Capital Orchestra.
Compositions by Thomas McConochie appear on

Mark Papworth, natural horn, and Amanda Millar, piano and cello, present New Wine in an Old Bottle, a CD of new works for natural horn by Australian composer Thomas McConochie. These sonatas are written in a neo-classical style that harks back to the golden era of the pre-valve natural horn during the time of Haydn, Mozart and Beethoven.
Composer