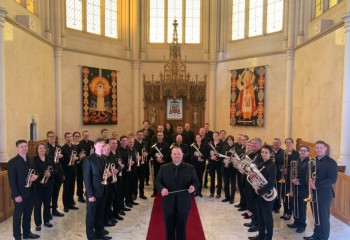 Victoria Brass
Victoria Brass is made up of the finest brass and percussion players in Victoria and are proud to have become the first band in history to perform live on the Australian Digital Concert Hall, showcasing the bands talents all around the world.
Victoria Brass is interested in cutting edge repertoire, free from the constraints and limitations of competition rules. The band performs top level compositions, showcasing the best of what banding in Australia can produce. Victoria Brass also introduced the first Youth Band Initiative in well over 10 years in the State of Victoria - The future of banding lies with developing young players to love what brass bands can offer. By showcasing what top level playing can produce, and by working with our young players to develop their skills and playing, we are growing a strong future for this genre of music that will endure and strengthen in this state.
Victoria Brass is featured on the following titles

Victoria Brass Live is a new recording by a top class Australian brass band. Expertly directed by Matthew van Emmerik, they offer a full and varied programme of innovative repertoire, including two world premieres, three Australasian premieres, and some well-loved but very welcome classics. Based in Melbourne, the band's mission statement puts it very well. They are 'Leading brass musicians with a collective focus on quality repertoire, collegiality and performance'.
Performer: brass ensemble
Members of Victoria Brass

Born in Bendigo, Victoria, Australia in 1978, Matthew started playing Baritone Horn at the age of 7. He is the former principal euphonium player with the Central Band of the Royal Air Force based in London, United Kingdom and all Royal Australian Navy Bands.