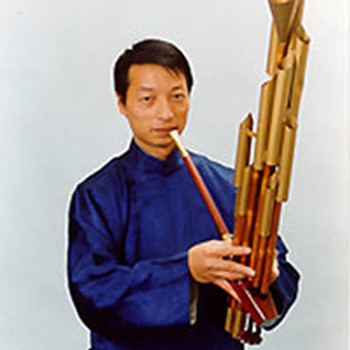 Wang Zheng-Ting
Wang Zheng Ting is a composer and master performer of the sheng (Chinese mouth organ). He graduated from the Shanghai Conservatory of Music and had performed with many leading Chinese orchestras before migrated to Australia in the late 1980s.
Working as a freelance artist, Ting has lectured and performed widely in Australia, New Zealand, Asia, North America and Europe. He is the founding member and director of the Australian Chinese Music Ensemble. He has also been very active in collaborations with non-Chinese musicians to create Australian cross-cultural music. His book Chinese Music in Australia: Victoria, 1850s to mid-1990s was published by the Australia Asia Foundation in 1997. He has recently completed a Ph.D. in Ethnomusicology at the University of Melbourne.
Compositions by Wang Zheng-Ting appear on

This new CD features the diverse works of six Australian composers that have taken Asian instruments and voices beyond the boundaries of their own traditions. From dan tranh to sheng, from shakuhachi to erhu, this fascinating recording is cross-cultural music at its best.
Performer: Harmonica
Composer