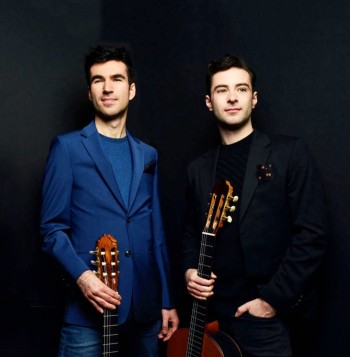 Ziggy and Miles
"Australian guitarist brothers making history" (The Age), Ziggy and Miles are two of their home country's finest young musicians forging an international career. Their performances are known for their transfixing synchronicity and subtlety, exploiting the instruments' full range of colours and techniques.
With over 50 awards between them, Ziggy and Miles proved their artistry as soloists and a duo from a young age. A selection of their major accolades includes prizes in the at competitions at the Guitar Foundation of America, Adelaide Guitar Festival, Melbourne Recital Centre, and finalists in the Concert Artists Guild Competition.
Currently based in NYC, Ziggy and Miles are continuing their studies at The Juilliard School under Multiple Grammy Winner, Sharon Isbin, as Artist Diploma candidates, becoming the first Australians of any instrument and first guitar duo in the program's 20-year history to be accepted. Their studies have been supported with distinguished awards from the American Australian Association and Ian Potter Cultural Trust.
Ziggy and Miles play guitars by Australian luthier Jim Redgate and use strings by Savarez.
Artist's website: www.ziggyandmiles.com
Ziggy and Miles is featured on the following titles

Sidekick is guitar duo Ziggy and Miles' debut CD release. The duo's 2023/24 season begins with a 13 concert tour of Australia with more performances in NYC, Chicago, Boston, Philadelphia, Florida & NZ.
Performer