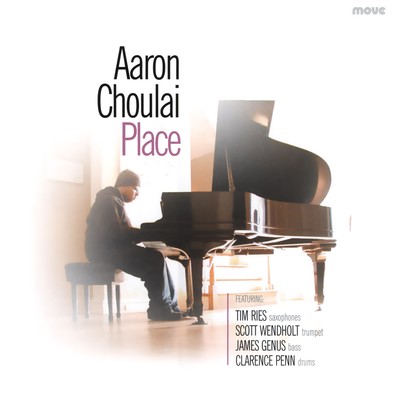 Place
When Aaron was only 21 years old, this, his first CD was described by Paul Grabowsky as "A milestone in Australian jazz". This disc of original compositions is a studio recording created during a pilgrimage to New York.
Pianist Aaron Choulai describes the recording of Place: "Most of the music was written specifically for this album. At the time New York was in the forefront of my mind and I guess subconsciously I was trying to recreate an impression of the New York jazz tradition.
"It is quite different from anything I have written before and is what New York sounds like to a 20 year old Papuan, Chinese, Jewish Australian who had never been there at the time. Tim, Scott, Clarence and James, who are very much the 'real deal' and have lived and worked in New York most of their lives, interpreted the music in a way which brought it to life for me, and in a way which I doubt many musicians could."
What makes this album special is their interpretation of a music which is an interpretation of their city and their history, a combination of reality and fantasy.
Aaron has just signed a three-record deal with Sunnyside Records in the US and is also recording for Move in Melboune. He was recently joined by New York saxophonist Tim Ries (who is featured on Place) at the Melbourne International Jazz Festival. Tim met Choulai while touring Australia last year with the Rolling Stones. Tim's band features some heavyweight US jazz players, including Billy Drummond and Ben Monder. They will perform Ries's arrangements of Stones tunes as well as a set of Choulai originals.
Artist

It was at Bennetts Lane in early 2003 that New York saxophonist Tim Ries, in Melbourne for the Rolling Stones tour, discovered Aaron playing. Tim was so impressed that they played together in Melbourne and Tim encouraged Aaron to come to New York to record with some of New York's finest jazz players.
Press quotes
"... his compositions are freshly inventive, with The Return of Dixon the scorching standout. An impressive debut ..."
— Kevin Jones, Weekend Australian
"... an inventive, thoughtful and intelligent pianist with a midas touch, who is both rhythmically and harmonically adept."
— Dale Barlow, Music Forum
"augmented by Wendholt's supercharged soloing endeavors. We surmise, that the best is yet to come from this bright, twenty-one year old artiste."
— Glenn Astarita, JazzReview.com
"A starlingly good first-up effort. . . Given the breadth of Choulai's performing interests, this is just the beginning of a beautiful career - but it's a mightly fine start."
— Kenny Weir, Sunday Herald Sun
Audio previews
Track Listing
Performers
Where to buy
Place is available as as CD. It can be purchased online through Buywell Music or the Australian Music Centre which both offer secure online ordering.
Move CDs can be ordered through music retailers across Australia including Readings.
Product details
List price

$25.00 AUD

Total playing time

58 minutes 50 seconds

Thanks to

Pacific Islands Trade and Investment Commission Australia


Release date

2004

Copyright

© 2003 Aaron Choulai

Phonogram

℗ 2004 Move Records

Categories

Catalogue number

MD 3285

Barcode

EAN 9314574328523