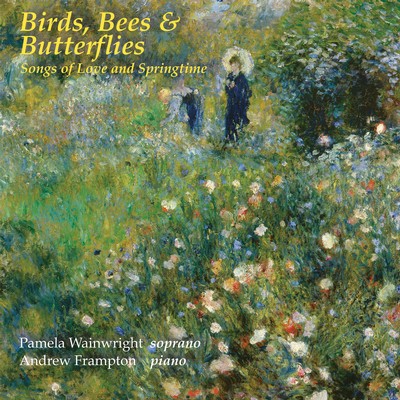 Birds Bees and Butterflies
Songs of Love of Springtime sung by Pamela Wainwright and accompanied by Andrew Frampton.
Artists
Audio previews
Track Listing
Ridente la calma (Let calm joy awaken), K. 152 Wolfgang Amadeus Mozart
Oiseaux, si tous les ans (Birds, every year), K. 307 Wolfgang Amadeus Mozart
ans un bois solitaire (In a solitary forest), K. 308 Wolfgang Amadeus Mozart
Recitative: 'And God said: Let the earth bring forth grass' Aria: 'With Verdure Clad' Franz Joseph Haydn
Recitative: 'And God said: Let the waters bring forth abundantly' Aria: 'On Mighty Pens' Franz Joseph Haydn

Airs chantés (Sung Airs), FP 46 Francis Poulenc

I. Air Romantique (Romantic Air)
II. Air Champêtre (Pastoral Air)
III. Air Grave (Serious Air)
IV. Air Vif (Lively Air)
Les Papillons (The Butterflies) Claude Debussy
Voici que le printemps (Here is Spring), L. 52 Claude Debussy

Caneuon y Tri Aderyn (Songs of Three Birds) Dilys Elwyn-Edwards

I. Y Gylfinir (The Curlew)
II. Tylluanod (Owls)
III. Mae Hiraeth yn y Môr (There's Longing in the Sea)
Where The Bee Sucks Thomas Arne
Spring Sorrow John Ireland
'Dream Valley' from Three Blake Songs, Op. 20 No. 1 Roger Quilter
Frühlingsglaube (Faith in Spring), Op. 20 No. 2, D 686 Franz Schubert
Die Vögel (The Birds), Op. posth. 172 No. 6, D 691 Franz Schubert
Das Lied im Grünen (The Song in the Countryside), Franz Schubert
Performers
Composers
Where to buy
Birds Bees and Butterflies is available as as CD. It can be purchased online through Buywell Music or the Australian Music Centre which both offer secure online ordering.
Move CDs can be ordered through music retailers across Australia including Readings.
Product details
List price

$25.00 AUD

Release date

December 2013

Category

Catalogue number

MCD 495

Barcode

EAN 9314574049527