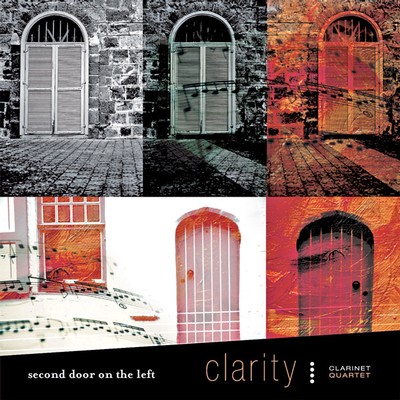 Second door on the left
What happens when you mix four dynamic performers with imaginative and unique compositional voices? Second Door on the Left: an album exploring the possibilities of the clarinet, from fragments of ancient melody to 21st century fusion.
Music about cartoons and karma, a blues for the drought and Armenian melodies mixed with funk: Recorded with support from the Australia Council, the cd features works by Elena Kats-Chernin, Peter Sculthorpe, Karlin Love and Canberra composers Sandra France, Ian Blake, Ruth Lee Martin revealing a cross section of compositional creativity and the many sonic capabilities of the clarinet family of instruments featured in this recording.
Second Door on the Left is at the heart of what has earned Clarity its reputation for versatility and technical brilliance. Clarity's commitment to the performance of new Australian music has lead to the commissioning of three new works for clarinet quartet with the support of ArtsACT. Ian Blake's Starling, Sandra France's What Goes Around Comes Around, and Ruth Lee Martin's Brindabella Blues form the core of this exciting and unique program.
Added to this are special arrangements created specifically for the quartet of four pieces by Elena Kats-Chernin including the title track, Second Door on the Left, a transcription of Peter Sculthorpe's String Quartet No. 10 and Karlin Love's imaginative Vasco Pyjama based on the Michael Leunig cartoon character of the same name. The result is a distinctive recording ranging from lush melodies and quasi-electronic landscapes to wild and quirky utterances.
Clarity are delighted to be launching their latest offering at the National Library of Australia, home of the Music Australia website, dedicated to preserving and promoting music of Australian composers performed by Australian musicians. This project has been supported by the ACT Government through artsACT and the Australia Council for the Arts.
Second Door on the Left is the culmination of a long term commitment to new Australian music, not only through commissioning work, but also through Clarity's aim to present new music and make it accessible to the broader Australian public through their New Ears Initiative. Their diverse performance activities - Clarity has performed at every occasion from an all-night rock concert in outback Australia, to London's St-Martin-in-the-Fields - ensure that the Australian works in their repertoire get a wide exposure
Artist

Take a journey of sonority and style with Australia's unique chamber ensemble, Clarity. Celebrating 10 years of Clarity in 2006, this quartet has established itself as an entertaining, versatile and technically brilliant group.
Audio previews
Track Listing
Karlin Greenstreet Love
1. Vasco Pyjama
Elena Kats-Chernin
2. Burnished Silver
3. Second Door on the left
4. Kwong Song
5. Pink Breasted Robin
Ian Blake
6. Starling
Sandra France
7. What goes around comes around: Six Vignettes for Clarinet Quartet
Ruth Lee Martin
8. Brindabella Blues
Peter Sculthorpe
String Quartet No. 10
trans. Zach Clarke
9. Sun Song 1
10. Interlude
11. Sun Song III
Where to buy
Second door on the left is available as as CD. It can be purchased online through Buywell Music or the Australian Music Centre which both offer secure online ordering.
Move CDs can be ordered through music retailers across Australia including Readings.
Product details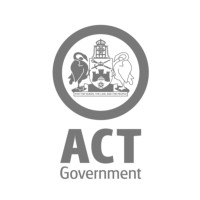 This project has been supported by the ACT Government through artsACT.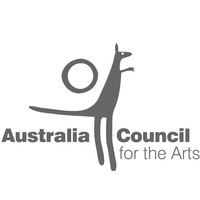 This recording project has been assisted by the Commonwealth Government through the Australia Council, its arts funding and advisory body.
List price

$25.00 AUD

Contributor

artsACT
Australia Council


Categories

Catalogue number

MCD 340

Barcode

EAN 9314574034028