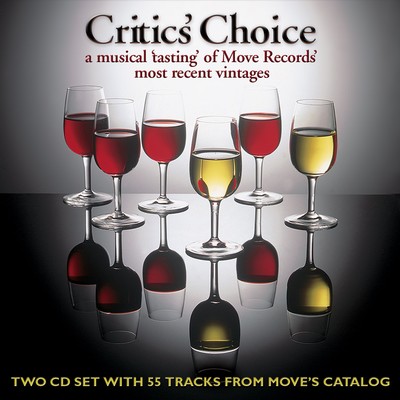 Critics' Choice
Move Records offers a generous sampling of our most recent vintages. Most of the 55 selections have been chosen for move by the 'critics' and classical presenters from around Australia.
Move Records has been maturing for over 30 years and is Australia's longest running independent classical CD label. Its unique palate is heavily flavoured by Australian composers and performers.
Track Listing
Flight of the Bumblebee (Rimsky-Korsakov)
Unvergänglichkeit (Korngold)
Lady Grey (Nardoo)
Amor dolçe sença pare (anon.)
The Cuckoo (Daquin)
Let's Dance Gay in Green Meadow (Grainger)
Homage à Victor Bruhns (Dreyfus)
'Marcia' from Wind Octet (Powning)
A l'ombra d'un perlaro (Piero)
Bethlehem Stjärna (Tegnér)
I've Got a Crush on You (Gershwin)
Cantabile from Sonata 6 in G major (Telemann)
Wedding March in E Flat (Best)
A que por muygram (from the court of Alfonso X)
Good King Wenceslas (trad. arr. McAlley)
Christmas Day (James)
Gulf Song (Bandt)
Dennis O'Reilly (trad.)
Haec Dies (Byrd)
'The market Place in Limoges' from Pictures at an Exhibition (Musorgsky)
'West Country Seamen' from There is an Island (Kay)
'Allegro' from Sonata Op. 5 No. 6 (Corelli)
I touched your glistening tears (excerpt) (Broadstock)
Das Veilchen (Mozart)
'Allegro' from Sonata 4 in D minor (Telemann)
Serenade (Eine kleine Nachtmusik) K. 525 (Mozart)
Fantasy (Arnold)
Come Down, O Love Divine (Vaughan-Williams)
'Gigue' from Suite in C (Buxtehude)
In the wee small hours of the morning (Mann/Hilliard)
Sonata Op. 5 No. 12 'Follia' (Corelli)
Disc 2
He comes from Chile (Gould)
It fell on a summer's day (Campion)
Devil among the tailors (trad.)
'Gloria' from Missa Brevis (Kodály)
Musica son (Landini)
Die Nacht (R. Strauss)
Feral (excerpt) (Lloyd)
Prelude Op. 74 No. 1 (Skryabin)
The Subtlety of Time, third movement (Gould)
Niagara – Grand Galop de Concert (Godard)
Je ne t'aime pas (Weill)
Calm Water (Le Tuan Hung)
'Setit puella' from Songs of Love and Fortune (Tahourdin)
Transformations III and IV (Baran)
Abshied (Schumann)
Ad parnassum (Whiticker)
God of the Northen Forest (excerpt) (Houghton)
Goldberg Variations BWV 988 (No. 16) (Bach)
Chaconne in G Minor (Couperin)
Ave maria (Guerrero)
Dreamtracks (excerpt) (Sculthorpe)
Lullaby (trad. Central Vietnamese)
Intermezzo in C major (Brahms)
Variations on a Theme of Corelli (Kreisler)
Where to buy
Critics' Choice is available as as CD. It can be purchased online through Buywell Music or the Australian Music Centre which both offer secure online ordering.
Move CDs can be ordered through music retailers across Australia including Readings.
Product details
List price

$10.00 AUD

Category

Catalogue number

MD 3200

Barcode

EAN 9314574320022