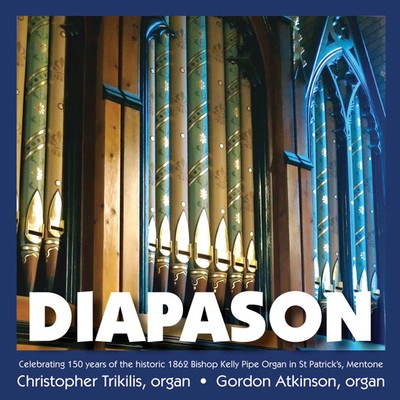 Diapason
This CD celebrates the 150th anniversary of the Bishop Kelly Pipe Organ in St. Patrick's Mentone One of Australia's most significant historic instruments, it was built by Frederick Nicholson for the Independent Church in Prahran. Organ duo Christopher Trikilis and Dr Gordon Atkinson team up to explore the rich sounds of the Nicholson organ - for two and four hands! Music by Vierne, Walther, Hesse, Bonelli and others.
Artist

One of the next generation of Australian organists, Christopher Trikilis is a Melbourne- based musician. He studied at the Conservatorium of Music, Melbourne University with John Mallinson and Mark McGee, while being Organ Scholar at St Patrick's Cathedral, Melbourne. Christopher has performed recitals in Australia and North America, and has furthered his studies with leading international organists including Dong-ill Shin and Mario Perestegi.
Press quote
"This is a CD to celebrate an instrument. There is a well structured and informative booklet, and this CD will be of interest to pipe organ enthusiasts with an interest in organ styles and periods."
— Greg Crawford,
Audio previews
Track Listing
Louis Vierne: Trois Improvisations (1929) Louis Vierne

Marche Episcopale 3:28
Méditation 4:15
Cortège 2:37
Jon Spong: Classic Variations on 'Ellacome' Jon Spong 6:44
Christian Hellemann: Cantilène Christian Hellemann 3:14

Johann Gottfried Walther: Concerto in B minor (after Vivaldi LV 133) Johann Gottfried Walther

Allegro 2:58
Adagio 3:52
Allegro 3:20
Franjo Dugan: Toccata in G minor Franjo Dugan 6:08

Léon Boëllmann: Three Pieces Léon Boëllmann

Chant de Matin 1:32
Entrée Sollennelle 1:10
Scherzetto 1:01
Julije Bajamonti: Sonata in F Julije Bajamonti 5:00
Alice Jordan: Quiet Rest Alice Jordan 3:34

Aurelio Bonelli: Two Toccatas a 8 Aurelio Bonelli

Toccata 'Athalanta' 2:42
Toccata 'Cleopatra' 2:17
Gordon Atkinson: Meditation on 'The Sun on the treetops' Gordon Atkinson 5:44

Adolf Friedrich Hesse: Fantasie für die Orgel zu 4 handen - Opus 35 Adolf Friedrich Hesse

Adagio 1:21
Andante 2:52
Allegretto 1:50
Performers
Composers
Where to buy
Diapason is available as as CD. It can be purchased online through Buywell Music or the Australian Music Centre which both offer secure online ordering.
Move CDs can be ordered through music retailers across Australia including Readings.
Product details