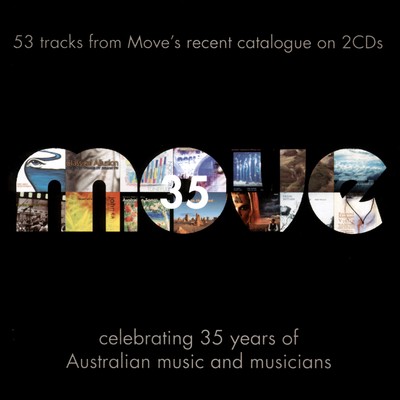 Move 35
Move Records has at last assembled a new sampler CD - MOVE 35 - with one track from every CD issued since Critics' Choice. In this case, that's over four years of music crammed onto 53 tracks and two CDs!
As is Move's specialty, these CDs feature only the finest in local musicians and composers. Witness leading performers such as Ronald Farren-Price, Ian Holtham and Stephen McIntyre (piano), Tony Gould (jazz piano), Douglas Lawrence and Sergio de Pieri (pipe organ), Owen Thomson and Rosario De Marco (guitar), Miwako Abe (violin), Genevieve Lacey (recorder), Miriam Morris (viola da gamba) and Ian King (tuba), plus ensembles such as The Ormond College Choir, La Compania, La Romanesca, Woof! Percussion ensemble and the Elysium Ensemble. Don't forget Australian composers too, including the venerable George Dreyfus (Melbourne) as well as Linda Kouvaras (Melbourne), Ron Nagorcka (Launceston), Becky Llewellyn (Adelaide), Ros Bandt (Melbourne) and the late jazz composer John Sangster (Queensland).
There is no obligation whatsoever to make any further purchases beyond the sampler itself, but if you choose to do so, any purchase using the special order form enclosed in the sampler package will be at the significantly reduced rate of just $22 per CD, POST-FREE anywhere in Australia.
Note: You must use the special order form to take advantage of the offer which must be redeemed through direct mail order, not via the internet or through shops.
Press quote
"remarkable in promoting not just the diversity of Move's catalogue but in celebrating the quality and breadth of music making in this country ... Move Records are more than justified in their celebrations."
— Patrick Miller, Friends of the Grainger Museum 'In a Nutshell'
Track Listing
Sixteen Tons
El Balenton de los Zielos
Melodies Passageres, Op. 27 Un Cygne
Guitar Sonata Op. 61 Opening
Occhi ce sete di voi pomposi
Chominciamento di gioia
Got a Date with an Angel
Song without Words, Op. 30 No. 3 in E major
Let us Garlands Bring, Op. 18 O Mistress Mine
Malagueña
(They'll be bluebirds over) The White Cliffs of Dover
Petrarch Sonnet No. 4 Canzoniere: Benedetto sia 'I giorno'
Trio Sonata
Sonate d'intavoltura per organo e cimbalo
Viola da Gamba Sonata in G minor, Op. 1 no. 6 Sarabande
Litanies
Fugue in G Minor, BWV 578
Sonata No. 14 in C♯ minor, Op. 27 no. 2 Allegretto
Life
Morceaux de Lecture
Ah! How sweet it is to Love
Wedding Divertissement Passapied
Berceuse, Op. 57
Sonata in A minor, K. 310 Presto
Abendlied Three Motets, Op. 38
Carillon Sortie
Poissons d'or Images (Book 2)
Carillon de Westminster (finale)
Disc 2
Message from the Past
A Waltz
Mirror of the Sky / Sea
Dune
Paean
In C (excerpt)
Lament Hope
Goodbye Michel (excerpt)
Concerto for Marimba and Small Orchestra 2nd movement
Eastern Intermezzo
Home Amongst the Gum Trees
We Lose Things
Mood from Lake Mungo
between home and heaven part III
Tender Mercies (excerpt)
Scrub Up
Letters from Armidale Rain
Giants in the Land (excerpt)
Serenades
Have you met Miss Jones?
Remembering Mirrabooka
Berceuse (excerpt)
Three St. Kilda Sketches II
Sam the Man, from Lord of the Rings Vol. 1
Sonatina Rondo
Where to buy
Move 35 is available as as CD. It can be purchased online through Buywell Music or the Australian Music Centre which both offer secure online ordering.
Move CDs can be ordered through music retailers across Australia including Readings.
Product details
List price

$10.00 AUD

Release date

2003

Copyright

© 2003 Move Records

Phonogram

℗ 2003 Move Records

Category

Catalogue number

MD 3250

Barcode

EAN 9314574325027