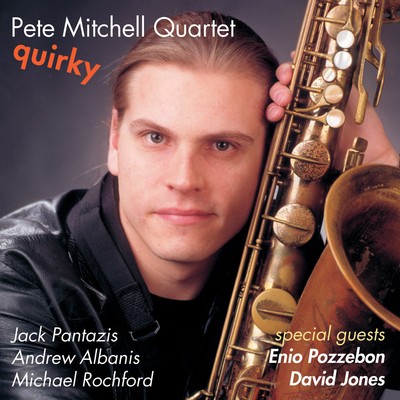 quirky
Quirky is the debut album featuring the up and coming young Melbourne saxophonist Pete Mitchell, his quartet and guest musicians playing ten original compositions varying in style, mood and tempo.
It's different ... it's fresh ... maybe even quirky?
Quirky is the debut album featuring the up and coming young Melbourne saxophonist Pete Mitchell, his quartet and guest musicians playing ten original compositions varying in style, mood and tempo.
With all but one track composed by Pete himself, the styles on this CD range from groove oriented funky jazz, through haunting atmospheric, to easy listening modern jazz with often a comical quirky twist. A beautiful ballad with delicate improvisations, a crazy fast wild tune, some eastern influences, a samba and even a trick or two!
Playing soprano, alto and baritone saxophones (even two at once on occasion!), Pete is supported here by some of Melbourne's leading musicians and music educators. The quartet regularly includes the fantastic guitar artistry of Jack Pantazis, the precise percussiveness of a very creative drummer Michael Rochford and the smooth warm tone of Andrew Albanis on double bass. In live performance, they make quite an impression on their audience, as witnessed by one spectator at a recent gig at the Stamford Plaza Hotel: "Thank you for your beautiful music. I wish I could have stayed for more. As an avid jazz fan it was great to hear such a fantastic live performance. Thank you!"
On Quirky, Pete is fortunate enough to have on four tracks the added advantage of playing with renowned jazz pianist Enio Pozzebon and the brilliant internationally celebrated drummer David Jones.
You will be delighted and perhaps sometimes even amused by this wonderful debut recording.
STOP PRESS!
For upcoming live performances by Pete Mitchell and his various jazz ensembles, click here.
Artist
Press quotes
"strong melodies ... vibrant solo work" ★★★★
— Chris Copas, The Star
"If you enjoy that wonderful, funky, soulful feeling in your music, well you'll want to have a copy of [Pete Mitchell's] new CD..."
— Steve Robertson, PBS FM - Jazz on Saturday
"a sense of fun ... carries through on all the numbers, even as the instrumentation changes ... Pete Mitchell has developed his own style, one based on audience involvement, technical mastery and personal musical statements."
— Bill Donaldson, Cadence Magazine, USA
"a very good band doing very good things"
— Roy Johnson, PBS FM - Bitches Brew
"an impressive debut ... Pete is clearly a talented composer ... has a great baritone sound ... a fine CD ... which very effectively demonstrates his substantial playing, writing and arranging skills"
— Simon Moodie, Clasax
"a gutsy and funky album debut ... a refreshing 10 track collection of original works ... Great energy!"
— Debra Lea Morrice, JazzEnews.com
"a tight debut album ... well played and produced ... comprehensive sleeve notes give the background to the compositions which adds to their overall enjoyment."
— Don Brow, Jazz Scene
"jazz with a twist to tickle senses ... a diverse range ... many with comical deviations that will amuse listeners."
— Monash Journal
"[Pete] has a very, very nice big sound!"
— Mark Freeman, PBS FM - Grits n' Gravy
"great music to bonk to."
— Justine Jones, PBS FM - Groovoire
"brilliant!"
— Martin Leslie, 3MBS FM
"a great CD!"
— Owen McKern, 3RRR - Deliverance
"a very, very good CD"
— Roger Clark, Dizzy's Big Band leader
Audio previews
Track Listing
Big Kid
The Prowler
Flute Song
Hey Groover!
Subdued
Song Without Words
Running Rampant
Egyptian Albino
Surgeon Hookey
Termination
Composer

Pete Mitchell is a talented Melbourne-based soprano/alto/tenor/baritone saxophonist whos various duos, trios and quartets have played at many corporate, private and public events around town. Recently, he has played with Bomba and occupied the bari sax chair in the Dizzy's house big band.
Where to buy
quirky is available for download from the iTunes Music Store.
It's available for streaming through Spotify and Apple Music.
quirky is available as as CD. It can be purchased online through Buywell Music or the Australian Music Centre which both offer secure online ordering.
Move CDs can be ordered through music retailers across Australia including Readings.
Product details
List price

$25.00 AUD

Categories

Catalogue number

MCD 224

Barcode

EAN 9314574022421