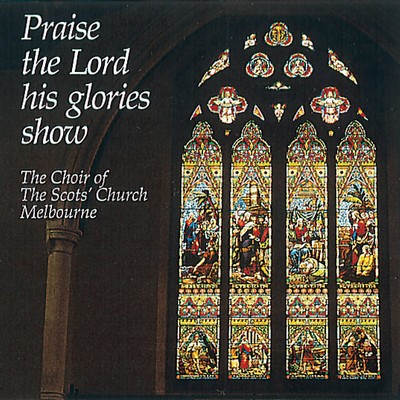 Praise the Lord his Glories Show
Some of the finest sacred music ranging from 16th century through Baroque, Romantic to Afro-American spirituals performed by one of Melbourne's finest choirs.
Some of the finest sacred music ranging from the 16th century: John Stone's 'The Lord's Prayer', through the Baroque and Romantic periods, right up to today. Afro-American spirituals are juxtaposed with works by Vaughan Williams, Rutter, Leighton and Mathias.
Artists

Founded in 1838, The Scots' Church, Melbourne is Victoria's oldest Presbyterian congregation, many distinguished Melbourne musicians have been part of the choir, including Dame Nellie Melba.

Melbourne organist Douglas Lawrence is Director of Music at The Scots' Church and Teacher of the Organ at the University of Melbourne and was the founding director of Choir of Ormond College, a position he held from 1982 to 2006.
Track Listing
Praise the Lord his glories show (Robert Williams, arr. Erik Routley)
Lord, thou hast told us (Arnold Bax)
Glorious Kingdom (arr. Wolfgang Kelber)
Solus ad victimam (Kenneth Leighton)
Jesus Christ is risen today (Lyra Davidica 1708)
Most glorious Lord of Lyfe (David Lord)
I can tell the world (arr. Jester Hairston)
Christ is made the sure foundation (Purcell, arr. Ernest Hawkins)
Lift up your heads (William Mathias)
O taste and see (Ralph Vaughan Williams)
O how amiable (Ralph Vaughan Williams)
Praise to the holiest (Sir Arthur Somervell)
Now thank we all our God (Praxis Pietatis Melica1647)
Alleluia from Exultate Jubilate (Wolfgang Amadeus Mozart)
Master all my living (Johann Sebastian Bach)
Jubilate Domino: Psalm 66 (Dietrich Buxtehude)
Praise my soul (John Goss)
The Lord's Prayer (Robert Stone)
Lord, that descendest (Eric Gritton)
Praise ye the Lord (John Rutter)
Lead, kindly light (W. H. Harris, arr. Eric Gritton)
Jubilate Deo (John Ireland)
Balm in Gilead (arr. Alice Parker)
A Gaelic blessing (John Rutter)
Where to buy
Praise the Lord his Glories Show is available as as CD. It can be purchased online through Buywell Music or the Australian Music Centre which both offer secure online ordering.
Move CDs can be ordered through music retailers across Australia including Readings.
Product details