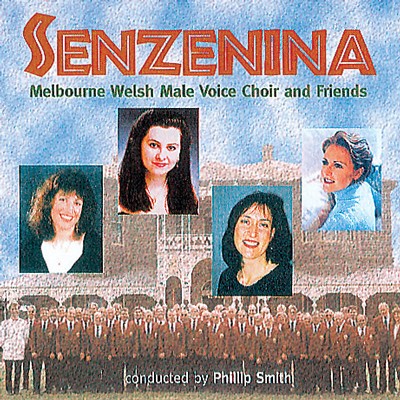 Senzenina
A wonderful program of much-loved favourites, including African melodies and chants. With stunning performances from past 'Singers of the Year'.
"Senzenina" — translation:
What have we done?
Our sin is that we are poor
Our sin is that we are black
They are killing us
Let Africa return.
The Melbourne Welsh Choir, arguably one of Australia's best male voice choirs, presents a truly eclectic collection of international music on their newly released CD, 'Senzenina'.
The inspiration for the varied program came from two sources:
Firstly as a result of innumerable requests from their audiences to record the music that was so much a part of their 1997 tour to South Africa.
And secondly to capture the talent and brilliance of some of Australia's emerging singers, including Sally-Anne Russell, Kim Wheeler and Lynlee Davies, (past winners and finalists of the 'Singer of the Year' competition).
The result is a stunning program of popular and new international music. From Sally-Anne Russell's stunning 'Verdi Prati' to the sublime 'Pie Jesu' performed by Kim Wheeler and Lynlee Davies, from pianist Linda O'Brien's brilliant and truly entertaining rendition of 'The Entertainer', to the new and unique arrangements of songs such as 'The Water is Wide', 'Away in a Manger' and the haunting 'Take Me Home', then culminating in the powerful songs of Africa.
'The Singer of the Year'
In the Welsh tradition of nurturing artistic talent and to enhance the performing opportunities available to emerging singers, the Melbourne Welsh Male Voice Choir formed the 'Singer of the Year' competition in 1993. It is now an established and successful annual contest and the title is highly coveted. This recording represents the beginning of a tradition to record and release the voices of young singers who each year enter the 'Singer of the Year'.

Artist

The reputation of the choir is such that its services are in great demand with a heavy workload of concerts. High standards and choral versatility have proved the ingredients of continuing success.
Press quote
"It is a record of verve, enthusiasm and, make no mistake, fine singing ... an interesting and entertaining record."
— Kim Lockwood, Herald Sun
Track Listing
Sing Rhondda (Purdy)
Verdi Prati from Alcina (Handel)
Witness
Away in a Manger
Tears in Heaven (Will Jennings / Eric Clapton)
The Moon and I from The Mikado (Gilbert and Sullivan)
The Water is Wide
Memory from Cats (Lloyd-Weber)
Lied und Czárdás (Lehar)
Somagwaza
Can't Help Loving Dat Man (Kern / Hammerstein)
Variations on the Entertainer (Joplin / O'Brien)
Senzenina
Take me home (Edwards / Hand)
Pie Jesu from Requiem (Lloyd-Weber)
Shosholoza
I Africa
Where to buy
Senzenina is available as as CD. It can be purchased online through Buywell Music or the Australian Music Centre which both offer secure online ordering.
Move CDs can be ordered through music retailers across Australia including Readings.
Product details