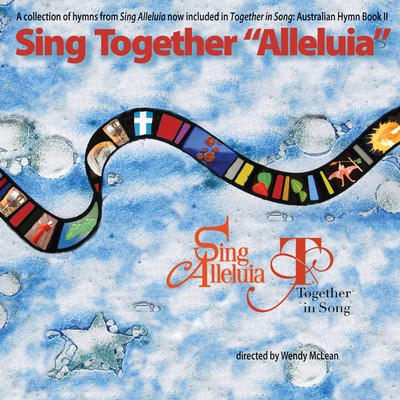 Sing Together Alleluia
Hymns sung by the 'Sing Alleluia Music Ministry Team' from Sing Alleluia are included in Together in Song: Australian Hymn Book II, published in 1987.
Sing Alleluia contains unfamiliar hymns, songs, psalms, chants, rounds and communion settings, it became apparent that congregations could benefit from introductory sessions which explored creative ways of using music in worship. To this end a small 'ad hoc' group of singers and instrumentalists from Uniting Churches in Melbourne offered the possibility of workshops.
Apart from worship leadership, conducting retreats and conferences, a small group presented three sessions on Christian Television and recorded the entire 105 items on cassette with Move Records over a period of two years.
Recordings were made in Wesley Church in Melbourne, often on cold winter nights. The intention was to demonstrate what a small occasional group could contribute to a diverse presentation of worship song.
Meanwhile invitations followed which led to visits across the state of Victoria for two years during which time over 40 volunteers participated, forming the 'Sing Alleluia Music Ministry Team' directed by Wendy McLean. At any one visit there would be four singers, a pianist, possibly a bass guitarist and a woodwind quartet for whom parts were arranged.
In compiling this CD there have been criteria:
* to use only material not already on the Together in Song - A Selection - 2 CD set commissioned by the AHB company.
* word changes from Sing Alleluia to Together In Song are minimal.
* to select a wide variety of words and musical styles including some which may be for occasional use only, or which may at first appear less accessible.
* to present selections with diverse instrumental accompaniments.
The intention remains - to encourage the belief that what a group of mostly amateurs can do, others can do, to enrich the peoples' song to the glory of God.
Wendy McLean - August 2004
Artist
Audio preview
Track Listing
God, we praise you, God, we bless you (Traditional) 2:54
This is my Father's world (Traditional) 2:15
When Christ was lifted from the earth (Traditional) 1:37
O Lord Jesus Marrkapmirr (Traditional) :52
O changeless Christ, for ever new (Traditional) 2:00
The voice of God goes out to all the world (Traditional) 2:12
Your coming, Lord, to earth in Bethlehem (Traditional) 2:31
In the fields near Bethlehem (Traditional) 1:50
Here hangs a man discarded (Traditional) 3:01
When his time was over the palms lay where they fell (Traditional) 3:07
Joyful the morning when Jesus Christ is risen! (Traditional) 1:40
Come, God's people, sing for joy (Traditional) 1:58
Rejoice in God's saints, today and all days (Traditional) 2:14
Father welcomes all his children (Traditional) 2:30
The Son of God proclaim (Traditional) 2:58
Let us talents and tongues employ (Traditional) 1:35
Christians lift your hearts and voices (Traditional) 1:45
Far beyond our mind's grasp (Traditional) 2:33
Christ be my leader by night as by day (Traditional) 1:39
God has spoken to his people (Traditional) 2:33
Safe in the shadow of the Lord (Traditional) 2:10
As man and woman we were made (Traditional) 1:59
God is our song (Traditional) 1:59
Comfort, comfort all my people (Traditional) 2:57
Brother, sister, let me serve you (Traditional) 2:42
Jesus, my Lord (Traditional) 1:35
Made in God's likeness, moved by the Spirit (Traditional) 3:52
Lord of earth and all creation (Traditional) 1:21
Donna nobis pacem (Traditional) 3:27
Eat this bread, drink this cup (Traditional) 4:16
Everything that has breath (Traditional) :53
Father, we adore you (Traditional) 1:11
In the presence of your people (Traditional) 1:36
Jesus, remember me (Traditional) 2:49
Performers
Where to buy
Sing Together Alleluia can be purchased online through Buywell Just Classical or the Australian Music Centre which both offer secure online ordering.
This title is also available in (or can be ordered through) many fine music retailers across Australia, including Thomas' and Readings.
Product details
List price

$25.00 AUD

Total playing time

76 minutes 31 seconds

Release date

2004

Copyright

© 2004 Move Records

Phonogram

℗ 2004 Move Records

Category

Catalogue number

MD 3291

Barcode

EAN 9314574329124