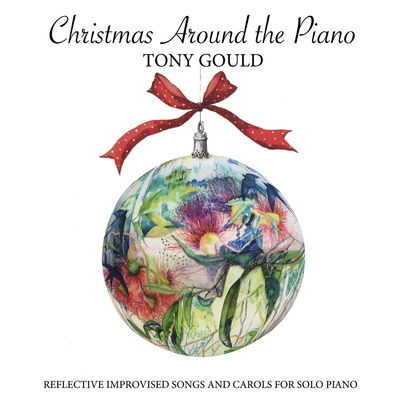 14 December 2015
Christmas around the piano
Pianist Tony Gould has recorded a collection of Christmas songs just in time for Christmas. It is gentle and reflective, making a great background to your celebrations. Because the CD has arrived so close to Christmas, the only way to get a copy of the CD is directly from our office by phoning 03 9497 3105. It's also on iTunes.
1 Have yourself a Merry little Christmas HUGH MARTIN / RALPH BLANE 4'53
2 When you wish upon a star LEIGH HARLINE / NED WASHINGTON 5'57
3 The Christmas song MEL TORMÉ / BOB WELLS 5'27
4 I'll be home for Christmas WALTER KENT / KIM GANNON 6'41
5 God rest you merry gentlemen ENGLISH 16th CENTURY 3'41
6 O tannenbaum TRADITIONAL / ERNST ANSCHÜTZ 4'04
7 Good King Wenceslas MELODY 13th CENTURY / JOHN MASON NEALE 4'10
8 Winter wonderland FELIX BERNARD / RICHARD B. SMITH 3'06
9 Silent night FRANZ XAVER GRUBER / JOSEPH MOHR 7'15
10 Santa Claus is coming to town JOHN FREDERICK COOTS AND HAVEN GILLESPIE 3'54
11 We wish you a merry Christmas ENGLISH TRADITIONAL 3'49
12 White Christmas IRVING BERLIN 4'38
13 Rudolph the red-nosed reindeer ROBERT L MAY 4'16
"This collection of songs (here without words) are pieces normally associated with Christmas. But a good tune is a good tune, so for me they should be played / heard whenever one feels like it.
"Most of the tunes I remember in some form or other when I was a kid, played/sung by mum or dad on our very dodgy wooden framed upright piano. They learned and played them 'by ear' as they say; not one piece of sheet music in our house! But a lot of music.
"My 'hopeless' romanticism compels me never to hurry through music, consequently these improvised versions are deliberately reflective. In that sense they invoke memories of family and friends in early years, but a reminder also that music is always a living breathing art form. Hope you always enjoy some peaceful and musical times."
TONY GOULD, 2015