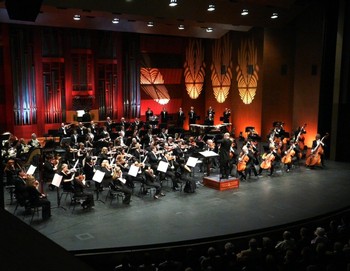 Adelaide Symphony Orchestra
The Adelaide Symphony Orchestra was founded as a 17 player radio ensemble in 1936 and performed its first series of public concerts in 1937. Mr William Cade, an Adelaide born musician who had worked in London with Sir Thomas Beecham, was the orchestra's first conductor.
Each year the Adelaide Symphony Orchestra performs over 100 concerts in Adelaide, South Australian country centres and, on occasions, interstate. The breadth of concert includes the Orchestra's Town Hall concert series, the entertaining Showtime series, outdoor music with ASO Alfresco, a variety of music for families and the free outdoor Santos Symphony Under the Stars. The orchestra has a strong commitment to education and each year many thousands of young South Australians in both metropolitan Adelaide and country centres are given the opportunity to discover and experience the joy of a live orchestral performance through a series of concerts aimed at pre-schoolers through to secondary students. A South Australian country tour is also undertaken each year.
Adelaide Symphony Orchestra is featured on the following titles

David Joseph Selected Works Vol. is now available. It features performances by the Adelaide Symphony Orchestra, the Tasmanian Symphony Orchestra and the Adelaide Chamber Orchestra
Performer

An exciting new CD showcasing the brilliant music of the Adelaide-based composer, Becky Llewellyn, featuring the Adelaide Symphony Orchestra, the Lights Contemporary Ensemble, a multimedia video and much more!
Performer