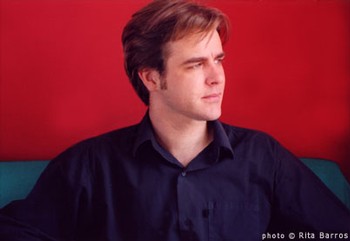 Andrew Byrne
Andrew Byrne is a Australian composer based in New York, who has written works for film, dance, theater, and the concert hall. His music, which always betrays a fascination with polyrhythm, is influenced by American experimental music and non-Western music.
Over the last decade, Byrne has developed a number of different types of pieces, all informed by polyrhythmic techniques: "mobile" pieces (such as Whispers and Cries, 2008, Lines Towards Another Century, 2006/08, Fandango Fantasy in F, 2009) featuring modular structures for variable performers; "landscape" pieces (White Bone Country, 2006) in which sonic environments are evoked through static polyrhythmic processes; "folk music" pieces (A Ringing World for solo percussion, 2009), which suggest a fictional folk music. Byrne tends to write for non–traditional ensembles like percussion instruments, piano and other keyboards, voices, and electronics.
Artist's website: www.andrewbyrne.com
Compositions by Andrew Byrne appear on

Broadway Boogie is a collection of new music for piano featuring works by Nigel Westlake, Andrew Ford, Andrew Byrne, Mark Pollard and Michael Kieran Harvey. It won the best classical CD of 2008 in Melbourne's Herald-Sun.
Composer