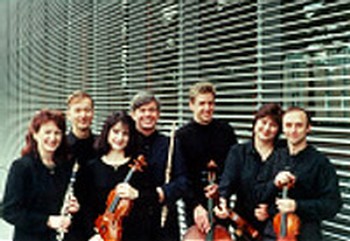 Australia Ensemble
The Australia Ensemble, resident at the University of New South Wales, was founded in 1980. The group is now widely recognised as this country's chamber music ensemble. Consisting of seven of Australia's leading instrumentalists, the Ensemble is able to engage other outstanding musicians to enable it to present some highly unusal and varied groupings of performers as well as the standard chamber music repertoire.
The Australia Ensemble lives up to its name by touring throughout Australia and overseas. It has appeared in every state of Australia for Musica Viva and other entrepreneurs and appears at the Adelaide Festival, the Festival of Sydney and the Barossa Festival. The Ensemble has regularly toured internationally since 1982 and has performed in the USA, the UK, the Soviet Union, Germany, Switzerland, Austria, The Netherlands, Poland, New Zealand, Japan, China, India, South America and South Korea. In 1988 the group made three international tours as special Bicentenary events and the following year was the featured group at the Hong Kong festival of the Arts. The Ensemble played a major role in the 1994 Adelaide Festival and toured to Vienna, Kaufbeuren, Halle, Dresden and Paris in October and November of that year.
Australia Ensemble appears on

Julian Yu takes famous pieces from the Western musical tradition and ornaments them in the manner of Chinese folk music.
Performer: Orchestra