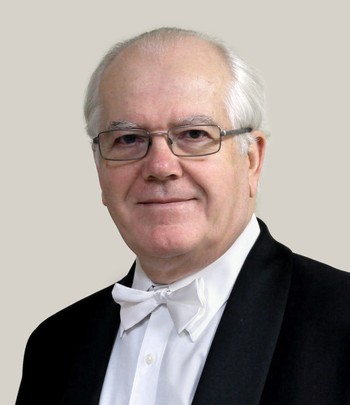 Brian Chapman
Born in England in 1944, Brian Chapman studied piano in Brisbane with Nora Baird from 1952, and in Melbourne from 1954 with Lindsay Biggins, J.A. Steele and Roy Shepherd. After obtaining his AMusA performing diploma in 1958, he discontinued piano lessons the following year for five years, returning to study with Roy Shepherd in 1964.
The following year he obtained his LMusA performing diploma and was a Victorian State finalist in the Australian Broadcasting Corporation's Instrumental and Vocal Competition (now the Symphony Australia Young Performers Awards) in 1966 and 1968, being made equal State winner in 1968. He also appeared nine times on Channel 10's "Showcase" in the years 1968-1970. His professional performing career began in the United States in the years 1970-1972 where he gave numerous chamber music recitals with members of the North Carolina Symphony, an activity he continued on returning to Melbourne, working with members of the Melbourne Symphony Orchestra. He has performed as soloist and chamber musician in Melbourne, Victorian provincial centres, interstate and overseas, including the United States, Mexico and Germany. His colleagues in chamber music performance have included Hermann Baumann, the Binneas Quartet, David Bloom, Rhonda Bruce, the Ciompi Quartet of Duke University, Jeffrey Crellin, Joan Dargavel, Graeme Evans, Phillip Green, David Griffiths, Brian Hansford, Vernon Hill, William Howard, Louisa Hunter-Bradley, Thomas Indermuhle, John Kennedy, Michael Kisin, Janis Laurs, Frances Lehmann, Chris Martin, Phillip Miechel, Ian Morgan, Max Neil, Mary Nemet, Merlyn Quaife, Spiros Rantos, the Rowe Quartet, Donald Scotts, Henry Wenig, Denis Wick, Matthew Wilkie and Paul Williams. He has made over 100 studio recordings and broadcasts for the ABC and has organised large-scale events such as Monash University's 1983 Brahms Chamber Music Festival and 1997 Schubert/Brahms festival.
He teaches piano privately and was honorary accompanist with the West Gippsland Chorale from 2001 to 2009. His musical activities have been complemented by an academic career as a physiologist and educational software developer, including appointments at Monash University's Department of Physiology (1973-89) and Gippsland Medical School (from 2008).
Brian Chapman is featured on the following titles

For this recording of Winterreise, Op. 89 (D.911), pianist Brian Chapman has prepared a new English translation, and as accompanist, with baritone Nathan Lay, recorded the entire song cycle in both English and German on two CDs. The set is presented with a lavish 56 book presentation featuring 24 paintings created by artist Lucy Chapman especially for this release.
Performer: Piano

A collection of Impromptus, Fantasies and Impressions for piano solo, played by Brian Chapman. Although only two of the pieces presented in this collection carry the title Impromptu, many of the other works possess an improvisatory quality.
Performer