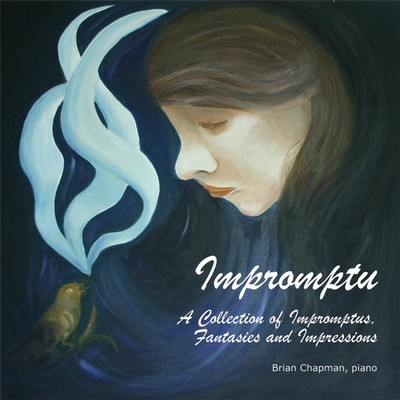 Impromptu
A collection of Impromptus, Fantasies and Impressions for piano solo, played by Brian Chapman. Although only two of the pieces presented in this collection carry the title Impromptu, many of the other works possess an improvisatory quality.
Beethoven's simply constructed 'easy' sonata may well have been a written out improvisation that only became published years later when the composer realised that his encroaching deafness made his future more dependent on composition and publication than on public performance. And we might fairly describe as 'doodling' the manner of commencement of Mozart's Fantasia in D minor, the two Spanish pieces and the first four of the Debussy selections.
Artist

Born in England in 1944, Brian Chapman studied piano in Brisbane with Nora Baird from 1952, and in Melbourne from 1954 with Lindsay Biggins, J.A. Steele and Roy Shepherd. After obtaining his AMusA performing diploma in 1958, he discontinued piano lessons the following year for five years, returning to study with Roy Shepherd in 1964.
Track Listing
Impromptu in G flat, Op. 90, No. 3 Franz Schubert

Fantasia in D minor, K.397 Wolfgang Amadeus Mozart
Minuet in D, K.355/576b Wolfgang Amadeus Mozart

Sonata in G major, Op. 49, No. 2 Ludwig van Beethoven

Allegro, ma non troppo
Tempo di minuetto
Minuet in G, WoO 10, No. 2 Ludwig van Beethoven

Sonata quasi una fantasia in E flat, Op. 27, No. 1 Ludwig van Beethoven

Andante - Allegro - Tempo I
Allegro molto e vivace
Adagio con espressione
Allegro vivace - Tempo I - Presto
Goyescas The Maiden and the Nightingale Enrique Granados
El Albaicin from Iberia Book III Isaac Albéniz
Suite bergamasque Clair de lune Claude Debussy

Preludes, Book 1 Claude Debussy

Footsteps in the snow
The girl with the flaxen hair
The engulfed cathedral
Estampes Gardens under rain Claude Debussy
Performers
Composers
Where to buy
Impromptu is available as as CD. It can be purchased online through Buywell Music or the Australian Music Centre which both offer secure online ordering.
Move CDs can be ordered through music retailers across Australia including Readings.
Product details