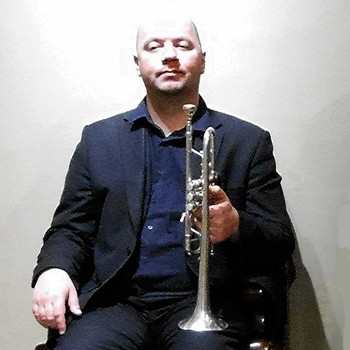 Bruno Siketa
Bruno Siketa began playing the trumpet in 1988 while attending Geelong College on a music scholarship. He obtained Bachelor of Music performance at the Victorian College of the Arts, studying with Robert Sims, Anthony Pope and Geoffrey Payne. During his studies he performed in masterclasses with Hakan Hardenberger, David Staff, and Geoffrey Payne. In 2002 he was appointed Sub-principal trumpet in the Auckland Philharmonia and performed there for two years.
Since 2003 Bruno has performed as guest principal trumpet in The Queensland Orchestra, Melbourne Symphony Orchestra and Adelaide Symphony Orchestra. Also as casual trumpet in the West Australian Symphony Orchestra and Orchestra Victoria. In 2004 he performed the 2nd Brandenburg Concerto on tour with the Mozart Orchestra.
He toured China and performed as principal trumpet with the Shenzhen Symphony Orchestra in 2006. Bruno has played extensively with brass bands such as Dalewool Auckland and Hawthorn Brass Band and is a continuing member of Melbourne Tramways Band.
He has also recorded for Melbourne-based singer/songwriter Georgia Fields, Pyramid, and toured with reknown vocalist Patrizio
Buanne. Bruno has recorded and premiered many new Australian works as a member of the Raga Dolls Salon Orchestra including the concerto Photo Album, which he performed in 2011 as the cornet soloist.
In 2010 Bruno performed a solo recital at the Music at the Basilica Festival, performing works with organ and in 2011 performed with soprano Judith Dodsworth. He has also performed solo recitals at the Organs of the Ballarat Goldfields festival in 2012 and 2014. He appears regularly at St Michael's Uniting Church in Melbourne, performing solo trumpet works with organ.
He has recently performed new works by Australian and other contemporary composers including the Australian premiere of Harrison Birtwistle's Endless Parade with the Arcko Symphonic Project. He has also taken part in the Australian National Academy of Music concerts under the direction of distinguished artists such as Richard Tognetti and Michael Collins, performing new works by Anthony Pateras and James Ledger.
Bruno has worked in the Melbourne Symphony's education programs including the MSO Jams and ARTPLAY ensemble. He enjoys teaching trumpet both privately and at schools.
Bruno Siketa is featured on the following titles

In the world of classical music, one of the most special and enduring combinations of instruments is that of the trumpet and the pipe organ. This combination, dating back over a millenia, has produced a tradition of heroic and majestic music making.
Performer
Arranger