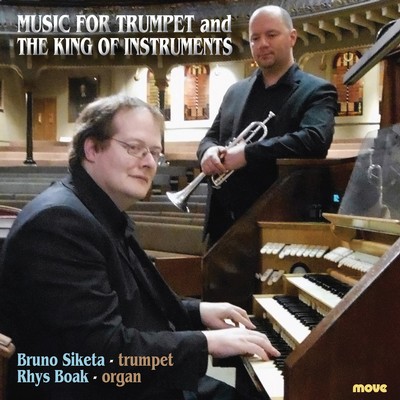 Music for Trumpet and the King Of Instruments
In the world of classical music, one of the most special and enduring combinations of instruments is that of the trumpet and the pipe organ. This combination, dating back over a millenia, has produced a tradition of heroic and majestic music making.
What surprises many is that this combination is also capable of great subtlety and lyricism as some of these pieces demonstrate. For part of this recording the trumpet and organ are heard here in an unusual context, being recorded in a converted ex-Malthouse in the inner Melbourne suburb of Collingwood.
This program features many new tailor-made arrangements for not only this wonderful combination of instruments, but also for the two players involved. For some of the pieces the resources of a larger and more comprehensive organ were required. It was decided to use the organ at St. Michael's, Collins Street, Melbourne, with its grand 19th century sound. St. Michael's is the venue where most of these arrangements received their premiere performances, and so holds a special sentiment on the part of the two players.
Artists

Rhys Boak is one of Australia's busiest organists. He is in constant demand locally and internationally as both a recitalist and accompanist. He is currently the organist and manager of music at St. Michael's Church, Melbourne.

Bruno Siketa began playing the trumpet in 1988 while attending Geelong College on a music scholarship. He obtained Bachelor of Music performance at the Victorian College of the Arts, studying with Robert Sims, Anthony Pope and Geoffrey Payne. During his studies he performed in masterclasses with Hakan Hardenberger, David Staff, and Geoffrey Payne. In 2002 he was appointed Sub-principal trumpet in the Auckland Philharmonia and performed there for two years.
Press quotes
"Even those who have previously abjured this ancient instrumental combination will find abundant delights here. Bruno Siketa studied trumpet with Geoffrey Payne: no surprise since he shares Payne's opulent, bronzed timbre (with great delicacy when needed). Together Siketa and Boak make the most hackneyed items seem new: including the non-Albinoni Adagio, the non-Caccini Ave Maria, and the possibly non-Bach Toccata and Fugue in D minor. Thanks to Boak's aptitude as arranger, Jean-Baptiste Arban's Casta Diva variations, the Romance from Shostakovich's Gadfly, Rachmaninov's Vocalise, and Vittorio Mont's Csardas (a pre-1914 smash-hit) sound as if their composers had wanted organ performance all along. So does Astor Piazzolla's haunting, understated Ave Maria, which will gratify even those of us allergic to this composer's tango obsession. Sensibly, Move intersperses duets with organ solos. The Pilgrim's Chorus version heard here is one of several Wagner transcriptions published by Edwardian recitalist Edwin H. Lemare. Lesser musicians would find it simply unplayable, but Boak sails through it with every sign of total relaxation. He demonstrates equal assurance with the CD's origin organ works, including Bach's Little Organ Fugue and Alexandre Guilmant's March on a Them of Handel. All tracks are commendable engineered (six were recorded at a private studio in Melbourne's suburbia, the remainder at a downtown Melbourne church). Captivating and handsomely designed, this release is a winner." ★★★★★
— R.J. Stove, Limelight Magazine
"In this fascinating collection, many in transcriptions for trumpet and organ I've not encountered before, ace trumpeter Bruno Siketa and Rhys Boak at the organ rise to the occasion time and again.
Many of the tracks are of pieces long established in the concert repertoire but only rarely heard in these versions, giving the collection significant novelty value as well as high quality readings.
Bach, Telemann and Shostakovich rub shoulders with Piazzolla, Bellini and Monti, odd bedfellows to be sure – but how beautifully these arrangements are offered to the listener.
Jean­Baptiste Arban's Variations on Casta Diva from Bellini's Norma (arranged by Boak) are made memorable by the tonal beauty of Siketa's trumpet line; it's never edgy but invariably mellow. The same could be said of the solo line in the Romance from Shostakovich's The Gadfly.
Rather improbably, Astor Piazzolla is represented not by a tango but a setting of the Ave Maria in an arrangement by Boak whose musicianship at the console runs like a golden thread through this compilation...Boak's performance of Bach's "little organ fugue" in G minor borders on perfection – it's a musical gem."
Read full review
— Neville Cohn, Oz Arts Review
Audio previews
Track Listing
Performers
Composers
Where to buy
Music for Trumpet and the King Of Instruments is available for download from the iTunes Music Store.
It's available for streaming through Apple Music.
Music for Trumpet and the King Of Instruments is available as as CD. It can be purchased online through Buywell Music or the Australian Music Centre which both offer secure online ordering.
Move CDs can be ordered through music retailers across Australia including Readings.
Product details
List price

$25.00 AUD

Release date

September 2014

Copyright

© 2014 Move Records

Phonogram

℗ 2014 Move Records

Category

Catalogue number

MD 3379

Barcode

EAN 9314574337921