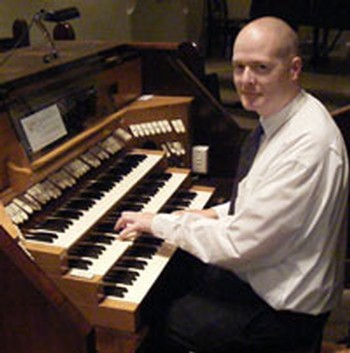 Rhys Boak
Rhys Boak is one of Australia's busiest organists. He is in constant demand locally and internationally as both a recitalist and accompanist. He is currently the organist and manager of music at St. Michael's Church, Melbourne.
Rhys Boak was born in Melbourne. He studied organ with John Mallinson, Douglas Lawrence OAM and Sergio de Pieri at Melbourne University, and harpsichord with Ann Murphy.
He is a veteran of several concert tours including tours to Europe and Asia and his playing can be heard on more than a dozen CD recordings both as a soloist and as an accompanist to many of Australia's finest choral ensembles.
In 2006 Rhys travelled to China where he gave a series of concerts with fellow Australian musician Geoffrey Tozer featuring the rare combination of Piano and Organ in duet. They ended each concert with a series of improvisations on local folk melodies. In 2011 Rhys again toured Germany, Denmark and France performing on several important historic instruments such as the Silberman organs of Freiberg Cathedral.
Artist's website: www.youtube.com
Rhys Boak is featured on the following titles

Performer, Arranger
In the world of classical music, one of the most special and enduring combinations of instruments is that of the trumpet and the pipe organ. This combination, dating back over a millenia, has produced a tradition of heroic and majestic music making.
Rhys Boak also appears on