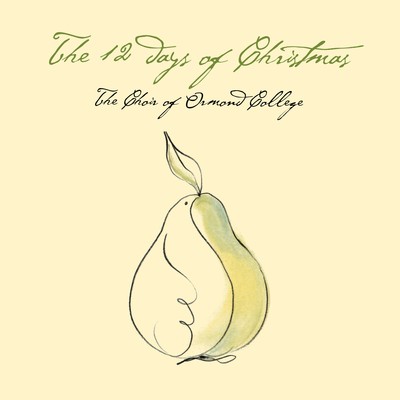 The 12 Days of Christmas
The Choir Of Ormond College here sings several carols long held in affection around the world but adds to these with newer works accompanied by renowned Australian pianist, Stephen McIntyre.
Ho hum - another carol CD, you say. Ah yes, but this one is different!
The organ is not forgotten as Rhys Boak accompanies four of the carols on the mighty Rieger organ in the Scots' Church, Melbourne.
The 24 carols included come from England, Ireland, Wales, Germany, Austria, France, Russia and Australia and features not only the title track but everything from Silent Night and Deck the Hall to In dulci jubilo and Howell's Tryste Noel.
Artists

Since its inception in 1982 under the direction of Douglas Lawrence, the Choir of Ormond College has become the first Australian choir to receive ongoing international recognition.

Melbourne organist Douglas Lawrence is Director of Music at The Scots' Church and Teacher of the Organ at the University of Melbourne and was the founding director of Choir of Ormond College, a position he held from 1982 to 2006.
Press quotes
"Yuletide rarities ... gloriously performed ... exquisitely evocative ... faultlessly executed ..." ★★★½
— Bob Crimeen, Sunday Herald Sun
"an ideal gift for Christmas."
— New Classics, UK
"a gem"
— Julie Malovan, Southern FM
"Who says you won't end up playing many of these pieces throughout the year?"
— Ron Payne, Music Teacher Magazine
"unusual carols ... good to hear the old with the new ... crisp and clear performance."
— Cliff Tucker, Radio Fremantle
"Douglas Lawrence and the Ormond College Choir enthusiastically serve up a menu of Christmas favourites ... skilfully accompanied ... Beautiful, lesser-known items ..."
— Tony Way, The Age - Green Guide
Audio previews
Track Listing
Sunny Bank (Christmas Day in the morning) Peter Hurford 1:46
A Babe is Born Johann Hermann Schein 2:15
Christ was Born on Christmas Day (Traditional) 1:45
Child in a Manger (Traditional) 2:43
Cold and Dark is Holy Night Alfred Ernest Floyd 3:01
Torches John Joubert 1:33
In the Bleak Midwinter Harold Darke 4:24
Tryste Noël Herbert Howells 6:34
He Smiles Within His Cradle (Traditional) 2:53
A Boy was Born Benjamin Britten 2:10
Silent Night Franz Gruber 3:21
A Child this Day is Born (Traditional) 2:16
Il est né le divin enfant (Traditional) 2:31
Wexford Carol (Traditional) 4:02
Ave Maris Stella (Traditional) 6:11
Come, Thou Redeemer of the Earth (Traditional) 2:02
I Sing of a Maiden Patrick Hadley 2:41
Legend Piotr Ilyich Tchaikovsky 2:39
Hymne à la Vierge Pierre de Villette 4:20
Masters in this Hall (Traditional) 4:15
In dulci jubilo (Traditional) 3:57
Deck the Hall (Traditional) 2:01
The Twelve Days of Christmas (Traditional) 4:46
Sir Christèmas William Mathias 1:35
Performers
Composers
Where to buy
The 12 Days of Christmas can be purchased online through Buywell Just Classical or the Australian Music Centre which both offer secure online ordering.
This title is also available in (or can be ordered through) many fine music retailers across Australia, including Thomas' and Readings.
Product details