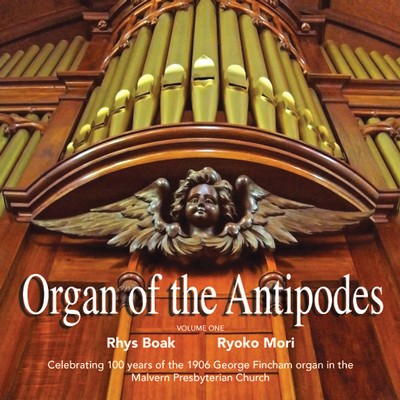 Organ of the Antipodes
Organ duo, Rhys Boak and Ryoko Mori, team up to celebrate the 100th birthday of a very special Australian organ.
Australian organist, Rhys Boak along with Japanese organist, Ryoko Mori, celebrate the 100th birthday of the George Fincham & son organ in the Malvern Presbyterian Church. The organ was one of the final organs built by the legendary George Fincham, the father of the Australian organ building industry and one of the nineteenth century's most prolific organ builders in the southern hemisphere. Contents of this CD include Louis Vierne's monumental but rarely preformed second organ symphony, completed in 1903 just 3 years before the construction of the organ in 1906. Also included is Samuel Wesley's 'Duet' for organ, the Toccata from Leon Boellman's 'Suite Gothique' and Haydn's 'surprise' symphony transcribed for the organ.
"This is a particularly attractive compilation which features two organists of considerable merit: Rhys Boak who works tirelessly to advance the cause of organ repertoire and the Japanese-born and - trained Ryoko Mori. In the first movement of Vierne's Symphonie No 2, Boak, like some musical Zeus, responds to the score by hurling great blocks of sound through the speakers. A softly bouncing scherzo is a pleasing contrast. There is much to savour here ranging from Mori's account of Leon Boellman's Toccata from the Suite Gothic to delights such as an arrangement for organ of the andante movement from Haydn's Symphony No 94 (The Surprise).
The latter, Haydn at his most droll, is pure delight - and the Boellman Toccata is an immensely dramatic opening track. With its massive waves of sound, it is an irresistible call to attention." Neville Cohn, Oz Arts Review
Visit Ryoko's web page here.

Artists

Rhys Boak is one of Australia's busiest organists. He is in constant demand locally and internationally as both a recitalist and accompanist. He is currently the organist and manager of music at St. Michael's Church, Melbourne.

Ryoko Mori was born in Tokyo, Japan. From an early age she studied piano and soon developed an interest in the organ. She studied organ at Ferris University, and the Tokyo University of Fine Arts. She also completed further studies at Baylor University, in Dallas, Texas.

Organbuilder (1828-1910). Born in the UK in 1828 George Fincham moved to Melbourne in the 1850s. He is considered to be the father of the Australian organ building industry. The firm he started was still in operation until the late 1990s.
Press quotes
"I was pleased to see the subtitle of this CD: "Volume 1" of Organ of the Antipodes. May there be many more!"
— John Worcester, 3MBS FM Libretto
"The music is characterised by strong and sure playing"
— Walter Burnie, Australian Hi-Fi and home theatre
Audio previews
Track Listing
1. Toccata from the Suite Gothique - Leon Boellman
2. Adagio from the Symphonie pour orgue, No. 3 Op 28 - Louis Vierne (1912)
Duet for Organ - Samuel Wesley
3. Allegro
4. Adagio
5. Fugue
Symphonie Pour orgue No. 2 Op 20 (1903)
6. Allegro
7. Choral
8. Scherzo
9. Cantabile
10. Final
11. Andante from Symphony No. 94 in G 'The Surprise'
Where to buy
Organ of the Antipodes is available as as CD. It can be purchased online through Buywell Music or the Australian Music Centre which both offer secure online ordering.
Move CDs can be ordered through music retailers across Australia including Readings.
Product details