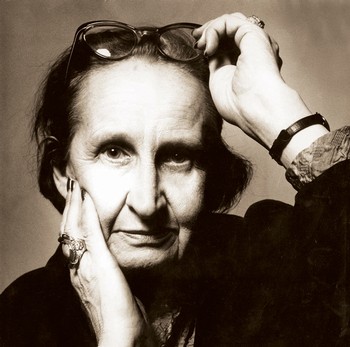 Elisabeth Lutyens
Elisabeth Lutyens as one of the five children of architect Sir Edwin Lutyens and his wife Emily, who was profoundly involved in the Theosophical Movement. From 1911 the young Krishnamurti was living in their London house as a friend of Elisabeth and her sisters. At age nine she began to aspire to be a composer, which given the prowess of her father in architecture, and the domineering nature of her mother, allowed her to elude her parents' attempt to live vicariously through their children.
In 1922, Lutyens pursued her musical education at the École Normale de Musique in Paris, before accompanying her mother to India in 1923. On her return she studied with John Foulds and subsequently continued her musical education from 1926 to 1930 at the Royal College of Music in London as a pupil of Harold Darke.
Lutyens is credited with bringing Schoenbergian serial technique (albeit her own very personal interpretation of it) to the UK. She disapproved of the 'overblown sound' of Mahler and similar composers, and instead chose to work with sparse textures and develop her own type of serialism; she first used a 12-note series in Chamber Concerto I for 9 instruments (1939), a work that has been compared with Webern's op.24 Concerto, but earlier than this she had been using the techniques of inversion and retrograde fundamental to a serial idiom, and she claimed she had been inspired to this by precedents she found in older British music, especially Purcell.
She did not always employ or limit herself to 12-note series; some works use a self-created 14-note progression, for instance. She was very fond of the music of Debussy, whose musical influence can be distinctly perceived in her work, and she became close friends with Luigi Dallapiccola. But her negative opinions of strict serialism caused an ideological rift between herself and her serialist colleagues. Descriptions of her music cite 'extraordinary achievements, demonstrating a completely personal serial style and very original structures', arguing that even though without a tonal centre, the notes in her music seem to have a natural and 'precisely ordered place'.
Lutyens, together with the conductor Iris Lemare and the violinist Anne MacNaghten, who formed a string quartet, made an extraordinarily influential trio. Their concerts proved to be a powerful force within the musical world of London, introducing composers such as Benjamin Britten, Elizabeth Maconchy, Grace Williams, Malcolm Williamson and Alan Rawsthorne. Composition was not just a hobby for Lutyens, but rather a way of life. She spent hours every day composing, whether her music had been commissioned or not.
[edit]
Elisabeth Lutyens is featured on the following titles
While the past decade has seen recordings of Elisabeth Lutyens' chamber and choral works released to critical acclaim, her piano music has remained obscure. Pianist Arabella Teniswood-Harvey has carefully researched and here presents Lutyens' neglected piano repertoire.
Composer