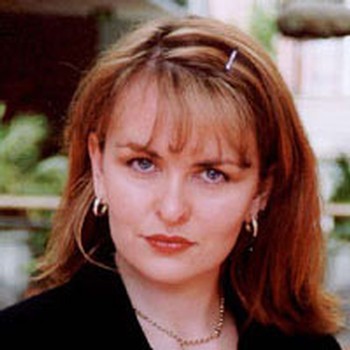 Emma Sidney
A dedicated vocalist since her teens, Melbourne-based Emma Sidney has performed classical, opera, musical and jazz works since 1988, including stage and television appearances. From 1999 has dedicated herself to music full time leading bands, teaching jazz privately and organising work locally and overseas.
Originating from Melbourne, Australia, Emma has a solid professional background in one of the world's most prolific jazz cities. A dedicated vocalist since her teens, Emma has performed classical, opera, musical and jazz works since 1988, including stage and television appearances. To augment her musical knowledge Emma completed a Diploma in Jazz and Popular Performance (graduated 2000) and from 1999 Emma has dedicated herself to music full time; leading bands, teaching jazz and technique privately and organising local and overseas work. While she has performed jazz in and around Melbourne since 1995, Emma's success (with pianist Todd Sidney) in Tokyo in 2001 allowed her to travel overseas for the remainder of 2001 and to realise her first CD.
Residencies, jazz festivals and events were the mainstay Emma's activities between 1998 - 2001, including providing occasional entertainment for events held at The Novatel, The Rialto and other high calibre venues. In 2001 Emma and Todd were featured in one of the prestigious View Hotels in Asakusa, Tokyo as the 'Top Lounge' feature providing 5 star entertainment 6 nights a week. In 1999-2000 Emma held a residency at The Rising Sun Hotel in South Melbourne and for 18 months in 1999 & 2000 her duo delighted at Borders (South Yarra). In 2000 Emma also received rave reviews at the well-respected Merimbula & Wagga Wagga jazz festivals.
Emma's passion as a jazz vocalist began in 1995 with the Jazz Festival circuit. At festivals held in Inverloch, Wagga Wagga, Merimbula and Halls Gap Emma led bands such as Sophisticated Ladies, Mmm Jazz and Lush Vibe. "I enjoy playing festivals for their spontaneity" says Emma. "You get together with different musicians and choose the tunes by consensus and anything can happen - and usually does."
Playing with many musicians over the years has given Emma a good sense of style and a somewhat unflappable attitude. She likes to be part of the band and to create a freedom of musical expression within the group. "While there's always room for improving technique, I believe the most important thing is the vibe of the band, knowing that you are all in the same place musically and emotionally, making something new that shines and having a ball doing it."
Emma's international vocal influences include Frank Sinatra, Ella Fitzgerald, Peggy Lee, Antonio Carlos Jobim, Diana Krall, Kurt Elling, Nat King Cole, Barbra Morrison and Aretha Franklin. She is also inspired by Australian performers Michelle Nicole, Nichaud Fitzgibbon, Bob Sedergreen and Vince Jones.
Artist's website: www.emmasidney.com
Emma Sidney is featured on the following titles

Laid back jazz vocals float beautifully over bossa and samba rhythms. This unusual mix is inspired by the work of Brazilian artist Antonio Carlos Jobim. The result is an acoustically spacious album which seduces the senses with a mix of familiar and original material.
Performer: Vocals
Composer

A passion for all kinds of love is conveyed in Emma Sidney's remarkable debut jazz CD Love Rhapsody. By song selection and interpretation, Emma leads you on a journey from one relationship to the next. With every emotive note you are drawn deep into her private world; intimately engaged one moment in the delight and ardour of love triumphant and in the next caught up in frustration, devastation and the rage of love lost.
Performer: Vocals
Composer