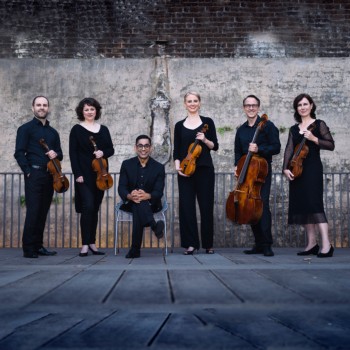 Ironwood
Ironwood is Australia's renowned historically informed performance group crossing the boundaries of old and new. We are a flexible ensemble of Australia-based world class musicians who love to explore the sound of chamber music on gut strings.
Ironwood is a renowned Australian period-instrument ensemble lauded for its historically-informed exploration of repertoire from the late-Renaissance to the late Romantic eras as well as its support of newly commissioned works. Established in 2006, the ensemble draws on a wealth of experience and expertise bringing together specialist leaders in the field. Ironwood has presented at the major festivals and concert series around Australia, and has toured Europe and America. With several innovative recordings on the ABC Classics and Vexations840 labels, Ironwood is regularly broadcast nationally on ABC Classic and around the world. Ironwood has partnered with Musica Viva Australia and has collaborated with The Song Company, Ensemble Offspring, and a broad spectrum of Australian composers, exploring both old and new music in wide-ranging contexts.
Ironwood's core members are highly-experienced educators at tertiary music institutions, including the Sydney Conservatorium of Music, The University of Sydney and the Melbourne Conservatorium of Music, The University of Melbourne and the Australian National Academy of Music, and as key personnel within arts organisations such as the Australian Chamber Orchestra and Australian Romantic & Classical Orchestra. Ironwood has been closely involved in the Australian Youth Orchestra's Chamber Players program. Ironwood has participated regularly in Bundanon Trust Artists in Residence programs and, in collaboration with festivals and educational institutions, and runs Developing Artist programs in Victoria and NSW. The members of Ironwood have helped to create national networks for young HIP artists and to establish new groups such as the Australian Haydn Ensemble, The Muffat Collective, Pearl & Dagger Opera, Gut Instincts, and events such as the Sydney Baroque Music Festival and Eastside Sydney Music Festival.
Artist's website: www.ironwoodchamberensemble.com
Ironwood is featured on the following titles
This first-ever collection of concert works by Felicity Wilcox represents the cream of her recent chamber music compositions. They include a brand-new recording of her celebrated bass clarinet work composed for Jason Noble, 'People of this Place', alongside works commissioned by Ensemble Offspring, Ironwood, and the Australia Ensemble, as well as a movement from Wilcox's first string quartet, performed by Sydney Art Quartet.
Performer: Ensemble