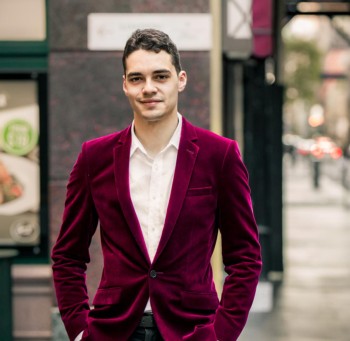 Luke Carbon
Luke Carbon is a woodwind multi-instrumentalist and educator based in Melbourne. An orchestral musician, chamber player, and fluent improviser, he attended the Australian National Academy of Music during 2015-2016 and was awarded a Master of Music Research, the Musica Viva Chamber Music Prize, and a programming award for his exploration of third stream music.
Luke's debut solo album of contemporary classical and minimalist clarinet music, Brightest Threads, earned a place on Rolling Stone's "Best Music of 2020 - Staff Picks". Luke is a guest musician on both clarinet and saxophone with the Melbourne Symphony Orchestra and Orchestra Victoria, a guest clarinetist with the Adelaide Symphony Orchestra and Victorian Opera, and has performed with ELISION, Syzygy, Ensemble Offspring, and Rubiks Collective. Recent festival appearances include the Bang on a Can Summer Music Festival, Metropolis, Bendigo International Festival of Exploratory Music, Dots+Loops, and Brisbane Music Festival.
Luke has performed numerous national and international premieres by composers including Gunther Schuller, William Russo, Christine McCombe, Ryan Walsh, Paul Dean, Tim Hansen, Samantha Wolf, Kate Moore, and many others. As a doubler on clarinet, saxophone, flute, oboe, and bassoon, Luke has played close to a dozen professional musical theatre productions including 'West Side Story', 'The Sound of Music', and 'Evita'.
Luke Carbon is featured on the following titles

Luke Carbon (clarinet) and Alex Raineri (piano) present a varied collection of music by composers Brahms, Berg, Beach, Bernstein and Gyger.
Performer: Clarinet
Arranger
Luke Carbon also appears on

The Nimbus Trio (piano, violin and flute) plays works by Kitty Xiao.
Performer: Bass Clarinet