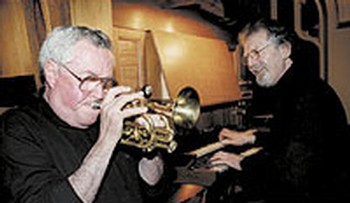 McJad
McJad was formed in the 1970s and comprised the duo of trumpeter Keith Hounslow and pianist Tony Gould. The idea was that the duo extemporise not only on an original theme, but a freely improvised theme!
McJad (acronym of Melbourne Contemporary Jazz Art Duo) was an idea, a way-out idea, conceived and developed by Keith Hounslow in the early seventies. This was the concept - the duo extemporise on an original theme. Nothing remarkable about that you might say. Perhaps not, but the crux of the idea required the theme to be improvised too. Nothing to be pre-discussed, nothing to be notated. The musicians would begin to play and let synergy lead the way. Hounslow, trumpeter par excellence, found a willing and ideal collaborator in his friend Tony Gould, a creative pianist and distinguished music educator. The duo's collaboration proved to be uncannily empathetic. McJad, the idea became an exciting reality.
Later in the seventies under the aegis of Musica Viva, McJad gave concert performances to discerning audiences in Australia culminating with a tour of India in 1982 as artistic ambassadors for the cultural division of the Department of Foreign Affairs. The duo recorded two albums near the end of the seventies: Introducing McJad and McJad Miniatures. Both LPs were released on the Melbourne independent AIJA label - Australian Independent Jazz Artists.
After India, Keith went to live in Sydney. McJad would then only perform occasionally until 2000 when Keith proposed a new organic sound, hence their new CD, McJad Goes Organic.
McJad is featured on the following titles

Those who knew the Melbourne jazz scene back in the 1970s would fondly remember McJad, the free improvising duo of trumpeter Keith Hounslow and pianist Tony Gould. This double-CD features their latest album plus a bonus re-issue of their original LPs. A true collector's item!
Members of McJad

For any artist to keep mind and ears open to ideas after 50 years of playing jazz in Australia is remarkable. Keith Hounslow - jazz trumpeter and cornettist extraordinaire - has a style that is melodic and expressive, bristling with eloquent lyricism.

Pianist and composer Tony Gould is one of Australia's most respected musicians. His career has embraced many styles of music, not least jazz and other improvisatory musics in addition to traditional and contemporary classical musics. He gives many concerts each year and for 50 years he has been involved in an extraordinary number of recording projects both as pianist and composer and has been at the forefront of music education in Australia via various tertiary institutions in Melbourne and throughout Australia.