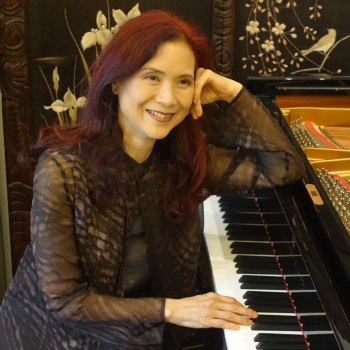 Nancy Tsou
Nancy Tsou (pronounced "Zo") was born to a diplomatic family of the Republic of China (Taiwan). She began her musical education at age five, in Argentina, and continued her studies in Melbourne and New York.
Her father was a well known Diplomat-Scholar Chou Yun-ting, who was honoured by the Republic and the People's Republic of China. Her mother was the accomplished traditional painter, Jane Lo Chou, who has exhibited widely in Asia and Australia.
Nancy began her musical education at age five, in Argentina, and continued her studies in Melbourne and New York. She was awarded a schlolarship to study at the Conservatorium of Music at Melbourne University where she gained her Master of  Music degree. She has since been on the faculty staff at Melbourne, Monash and Wollongong  Universities.  
Professional engagements have included solo recitals in Australia and overseas, among them are several tours with the Queensland, NSW, ACT and the Victorian Arts Councils, performing extensively in each state to laudable reviews. She has also taken part in many Arts Festivals, such as the Chinese Arts Festival and the Brunswick, Kyneton, Bendigo, Swan Hill and Ballarat Arts Festivals. 
Nancy has also toured China and performed solo recitals and given master classes at five of the most prestigious conservatoriums, among them, the Shanghai Conservatorium and the Central Conservatorium in Beijing. In Taipei, she performed to a packed audience at the Taipei Arts Centre.
However, Nancy likes to share her playing with smaller audiences, thus creating a more intimate atmosphere reminiscent of the soirées  of the 19th century. Among these highlights are the series of six Piano recitals she performed in Como House, Toorak, Melbourne in recent years. 
Nancy has recently been appointed Principal Pianist with 'Rewire', a non-profit organisation specialising in Music as a Healing Art and regularly donates her art to the sick, the elderly and the infirm. Also with 'Rewire', Nancy  is planning a piano competition with no age limit, to encourage music making across the whole community.  
(Nancy has asked herself if she was wise to choose in life this most difficult of tasks, among others which could have been hers?  To unhesitatingly select the most splendid of human endeavours and then to realise it?  She wonders how far she chose her art and to what extent it chose her?  Vocations are mysterious and enigmatic!)
Nancy Tsou is featured on the following titles

Let pianist Nancy Tsou transport you to the tremendous excitement, the pageantry of the Latin composers Piazzolla, De Falla, Granados, Albéniz and Ginastera. She performs with extraordinary range, depth and penetration.
Performer: Piano

Chopin's celebrated nocturnes performed by pianist Nancy Tsou (pronounced "Zo"). Nancy hears in Chopin what very few hear, and her devotion to him has guided her.
Performer: Piano