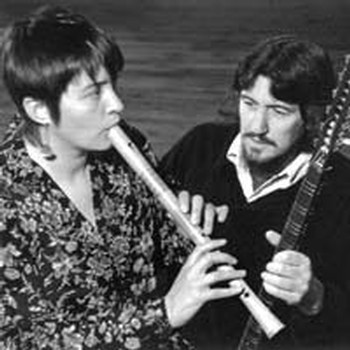 Nardoo
Peter Biffin and Zana Clarke are Nardoo. Peter is renowned for developing and creating his own instruments and Zana is one of Australia's leading recorder players.
Peter Biffin - has spent the last twenty years developing a unique expression in sound which is an integration of musical instrument making, composition and performance, expanded scale systems and improvisation. Filtered through a background of traditional styles from East and West, Peter's work has produced two new instruments and a form of music which are entirely his own. Peter has performed and recorded with the David Hykes Trio in Australia, Mexico, France, U.S.A. and Hong Kong, performed as a soloist and made instruments for internationally renowned musicians in several different fields.
Zana Clarke is one of Australia's foremost recorder players and teachers. With four CDs to her credit and many live ABC broadcasts, she also performs and tours with Nardoo and Cantigas (mediaeval folk based music). Zana has explored new ways of approaching recorder technique and its role in many different mediums, as well as composing new works for the instrument. She is artistic director of Orpheus Music, fostering the growth of the recorder at both regional and national levels.
Nardoo is featured on the following titles

'Nardoo' present a tapestry of original music from a melting pot of jazz, ethnic and medieval influences. This album of improvisations presents the duo of Zana Clarke and Peter Biffin performing new and traditional wind and string instruments.
Members of Nardoo