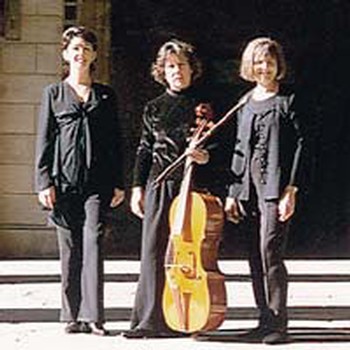 Orpheus Ensemble
Featuring the talents of Vivien Hamilton (soprano), Margaret Waugh (baroque cello) and Priscilla Taylor (harpsichord), the Melbourne-based 'Orpheus Ensemble' has been performing together since 1992. It specialises in exploring English and Italian music of the 17th and early 18th century.
Orpheus Ensemble is featured on the following titles

The Orpheus Ensemble with Vivien Hamilton. Songs for soprano, harpsichord, baroque cello (viol and baroque violins on occasion), each written for famous singers and actresses in popular Restoration dramas of late 17th century England.
Performer: Ensemble
Producer
Members of Orpheus Ensemble

Vivien is currently Lecturer in Voice at Monash University, and conducts the Monash University Women's Choir, also teaching at the University of Melbourne. Her recent work covers many styles and contexts, from the role of Mrs Anderson in the Melbourne Theatre Company's production of Sondheim's A Little Night Music, to her performance as soprano soloist in J.S. Bach's St. John Passion at the Festival of Perth.

Margaret Waugh has appeared as principal cellist with the Australian Brandenburg Orchestra on ABC Classics' recording of Handel arias featuring Graham Pushee (1994) and Yvonne Kenny (1998), and has played with the ABO since its inception in 1988.

Following postgraduate studies in Harpsichord and Organ with John O'Donnell at the Victorian College of the Arts, Priscilla Taylor studied with Glenn Wilson in Holland. Priscilla has performed extensively in Melbourne and Victoria as a Continuo Harpsichordist.