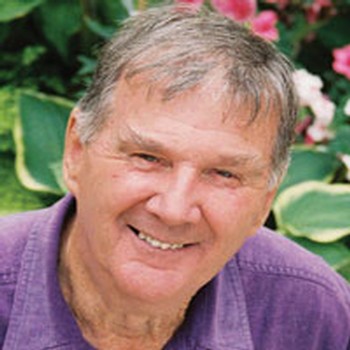 Peter Cundall
Peter Cundall has been gardening since he was a child during the 1930s. Born in Manchester England in 1927 he first started gardening after school and during holidays by laying turf lawns. Today, Peter is best known as a long-running presenter of Gardening Australia on ABC TV.
Towards the end of World War II he was conscripted, joining the British Parachute Regiment and serving in Europe and the Middle East. After leaving the British army he continued with gardening activities in his spare time. Eventually he enlisted in the Australian army in 1950 as a means of getting to this country more quickly. After leaving the forces he worked full timeas a self-employed gardener and landscaper in northern Tasmania. He started radio broadcasting in 1967 with one of the world's first gardening talkback programs from a Launceston commercial station. In 1969 he began making weekly television programs for ABC-TV called It's Growing, at Moorills Estate, Tasmania which provided practical gardening information. During this period he helped form the Organic Gardening and Farming Society, personally forming 20 branches in different parts of Tasmania during a two-year period.
After experiencing three wars he continues to be actively involved with any anti-war movements, is deeply involved with environmental campaigns and is strongly opposed to any form of racial, religious, class, sexual or any other form of discrimination.
Peter Cundall is featured on the following titles

Virtuoso pianist Michael Kieran Harvey's dazzling pianistic pyrotechnics are displayed to the full in this amazing live performance recorded in Hobart in April 2005. Each of the 13 pieces in the Catalogue d'oiseaux (Catalogue of birds) explores the calls and environment of a single bird species.
Narrator: Reader