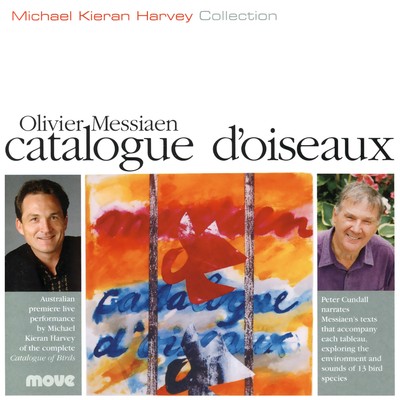 Catalogue d'oiseaux
Virtuoso pianist Michael Kieran Harvey's dazzling pianistic pyrotechnics are displayed to the full in this amazing live performance recorded in Hobart in April 2005. Each of the 13 pieces in the Catalogue d'oiseaux (Catalogue of birds) explores the calls and environment of a single bird species.
Michael Kieran Harvey and Peter Cundall perform Messiaen's naturalist masterpiece - 3-CD set only $39.95
A virtuoso storm through nature
... the most arresting performance ... came from Michael Kieran Harvey. This pianist has recently recorded the complete Messiaen Catalogue d'oiseaux, a mammoth undertaking and a cruel test for any pianist. Between two of the shorter pieces - Le loriot and L'alouette lulu - Harvey beat a fascinating path through the half hour of La rousserolle effaruette, an entire world of wildlife in itself rather than an unadorned picture of the reed warbler. With impressive concentration and his trademark virtuosic brilliance, Harvey stormed through these pages, relishing their clanging explosions of colour and underlying ferocity but clearly outlining the segment's palindrome-like nature, motifs and sound patterns moulded around a central axis with an almost unnerving rigour. Clive O'Connell, The Age, reviewing the 2006 Piano Landmarks mini-festival
This recording of the performance by Michael Kieran Harvey with narration by Peter Cundall of Messiaen's Catalogue d'oiseaux was presented by Ten Days on the Island over the 2nd and 3rd of April 2005 at Morrilla in Tasmania. The event was sponsored by Hydro Tasmania. For further details about Ten days on the Island visit their web site at www.tendaysontheisland.com.
"My faith is the grand drama of my life. I'm a believer, so I sing words of God to those who have no faith. I give bird songs to those who dwell in cities and have never heard them, make rhythms for those who know only military marches or jazz, and paint colours for those who see none". (Olivier Messiaen)
Artists

Michael Kieran Harvey is one of the foremost interpreters of contemporary piano music of his generation. A champion of Australian music and himself a composer, he regularly commissions new Australian music and has performed with Australia's leading contemporary music ensembles and orchestras.

Peter Cundall has been gardening since he was a child during the 1930s. Born in Manchester England in 1927 he first started gardening after school and during holidays by laying turf lawns. Today, Peter is best known as a long-running presenter of Gardening Australia on ABC TV.

Olivier Messiaen (1908–1992) was a French composer, organist and ornithologist, one of the major composers of the 20th century. His music is rhythmically complex (he was interested in rhythms from ancient Greek and from Hindu sources); harmonically and melodically it is based on modes of limited transposition, which he abstracted from his early compositions and improvisations.
Press quotes
"Catalogue d'oiseaux is a work of prodigious dimensions, a phantasmagoria of sounds and forms, some airy and mysterious, others monumental, incandescent with emotion, framed by the composer to reveal with crystalline acuity the birdsong he recorded for years and the creatures' characters and habitats ... The narrator, ABC gardening expert Peter Cundall, was, like Messiaen, a naturalist, bird-lover and prisoner of war in the 1940s. The empathic Harvey-Cundall partnership, and its championing of nature, was generous and sincere."
— Lee Christofis, The Australian
"The music calls for pianistic daring and stamina, qualities Kieran Harvey has in abundance. He delivers the music with unflagging zest for the project and the belief it is both a statement about and record of declining avian species on our planet largely though human greed. He gives the music's clusters and flashes of sound a virtuosic sweep with the sheer dynamism of his style and a tinkling clarity like - well, bird song actually"
— Patricia Kelly, Brisbane Courier Mail
"A bizzare double act but it works . . . . with its excellent liner notes and fierce artistic commitment it reaffirms Kieran Harvey's place at the forefront of Australian pianism"
— Martin Buzacott, Limelight
"Few Australian pianists can touch Michael Kieran Harvey, one of the most exciting exponents of contemporary music in the country"
— Clive O'Connell, The Age
"This is a monumental achievement in anyone's terms"
— Tony Way, The Age - Green Guide
"Another fine release from the ever adventurous Move label"
— David Hood, 3MBS FM Libretto
"...Kieran-Harvey's pianisim is superb. He is truly one of the most, if not the most, interesting pianists in the country..."
— Patrick Holland, 4MBS Program Guide
Audio preview
Track Listing
Performers
Where to buy
Catalogue d'oiseaux can be purchased online through Buywell Just Classical or the Australian Music Centre which both offer secure online ordering.
This title is also available in (or can be ordered through) many fine music retailers across Australia, including Thomas' and Readings.
Product details
List price

$39.00 AUD

Total playing time

207 minutes 55 seconds

Release date

2005

Copyright

© 2005 Move Records

Phonogram

℗ 2005 Move Records

Categories

Catalogue number

MD 3299

Barcode

EAN 9314574329926